So by the one man?s obedience the many will be made righteous. Romans 5:19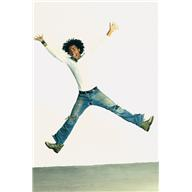 Recently, our school district's automated phone system mistakenly called every parent to inform them that their child was absent. The phones in the school offices rang off the hook as frantic parents called to ask about their children. There's a saying, "To err is human, but to really foul things up you need a computer." Maybe not. Long before computers were invented, humans created plenty of turmoil on their own.
The couple whose footsteps made the first human imprints on the face of the earth changed the course of history as a result of one major oops. The rest of us aren't making things any better. Satan tailor-makes temptations for each of us. What might be a struggle for me may not be a problem for you and vice-versa. Fortunately for us, God supplied a one-size-fits-all remedy. For as by the one man's disobedience the many were made sinners, so by the one man's obedience the many will be made righteous.
By one selfless act, Jesus righted every wrong ever made. His redemptive work covers every sin whether it's recorded on the pages of history for all to read or hidden deep away. Jesus did more than pay the penalty for our sin. Anyone who believes and trusts in His ability to wipe the slate clean is promised an eternity of life in heaven with Him. Imagine living in freedom from now into forever with someone who loves you that much. All you have to do is ask.
The communication system we have with God never glitches. Let Him know you're ready to accept the fact that Jesus can clean up any mess you've made. What's done is done … and that's the good news.
(Photo courtesy of office.microsoft.com.)
(For more devotions, visit us at www.christiandevotions.us.)
---
---