My times are in your hands. Psalm 31:15 NIV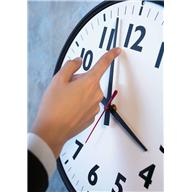 I'm glad there aren't more hours in a day.
We all get 1,440 minutes daily, or sixty minutes an hour every twenty-four hours, and I don't want any more than that. At the end of each day, there's always more to be done, so having more time would probably mean I'd work longer. Not something I want. Some minutes are preplanned, like time to sleep, work, and eat meals. But how we spend the rest of the time is up to us. We decide what to do, when, and where. Does that mean we're in charge? Not in the least.
Nearing his death, King David wrote a psalm thanking God for being in charge and planning every day of his life. Even when David did something wrong, God was still there with a plan that was best for him and his family.
We can make all the plans in the world—for this day, this year, or this life—but God leads us one step at a time. And with each step, we may find ourselves further and further from what we thought were our goals. My life plans were skewed when an engagement ended abruptly. Another change came when my parents couldn't afford to pay for college and my money ran out. Then my first marriage fell apart. Add to that, children with legal troubles, major car accidents, my second husband's cancer diagnosis and death, and I ended up far from my "happily ever after."
But it's not all bad. God knew what I would face and graciously didn't tell me ahead of time. He prepared me for what would come but didn't warn me so I couldn't try to interfere. He had it all planned, including the unavoidable potholes and speed bumps on the road of life.
Except for the pain, loneliness, and bad decisions I've made, I wouldn't change much about my life. God knew what was best each day, even though I tried to tell him otherwise—often. He knew where I would be today and what life lessons I needed to learn to get here. He also knew whose lives I could touch and how I'd grow.
God's plan on His schedule is best for us. We just need to let Him be in charge. Take your time, but not too long. You only have 1,440 minutes today.
(Photo courtesy of office.microsoft.com.)
(For more devotions, visit us at www.christiandevotions.us.)
---
---