Then Mary took about a pint of pure nard, and expensive perfume; she poured it on Jesus? feet and wiped his feet with her hair. And the house was filled with the fragrance of the perfume. John 12:3 NIV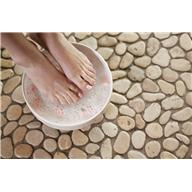 Pat is in the last stages of severe Alzheimer's disease (Lewy Body Dementia) and is unable to wash herself. She doesn't remember how. She hates showers and is quite vocal about the water being too hot or too cold. If she can't verbalize the correct word, she will shout, "Oh!" many times. As a caregiver, I find giving a shower to an unhappy person very tiring.
On one particular day, I decided to start with Pat's feet. Both feet have crooked toes, and one foot has a painful hammertoe due to years of wearing pointed shoes for a professional work environment. Kneeling down, I began to wash her feet. The warm, wet washcloth was full of soap suds as I lifted one foot and washed the bent and gnarled toes, continuing across the bottom of her foot and sliding to the top of the ankle bone. I lifted her other foot and did the same. I looked up at Pat and saw the deep furrow in her brow as she shouted, "Oh! You're killing me."
I asked, quietly, if she remembered the woman who washed Jesus' feet with expensive perfume. Pat became quiet and the rigid lines in her face relaxed. She had gone to church for the last seventy-three years and by her facial expressions, she was familiar with this story. Her eyes moved from their staring, fixed position and focused on me.
"I am like that woman, Pat. It is my honor to wash your feet."
Every day is a learning process when working with memory loss. While caring for Pat, I have discovered she finds great comfort in hearing the old stories from the Bible. When she is in a stressful situation, quoting familiar verses provides her great comfort.
Even though, as a caregiver, I hear the same words time and again, it is important to capture special moments and treasure them in my heart. Kneeling before this lovely person with limited verbal skills, I have discovered that the lowliest of duties are the highest in God's kingdom.
Let Christ bathe your soul in His love.
(Photo courtesy of office.microsoft.com.)
(For more devotions, visit us at www.christiandevotions.us.)
---
---