And the Lord turned and looked at Peter. Then Peter remembered the word of the Lord, how He had said to him, 'Before the rooster crows, you will deny Me three times." Luke 22:61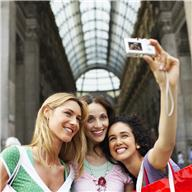 It's hard to know who your friends are. Jesus fortunately could see all things, so He knew Peter would turn out to be a very good friend. We don't always see that with our friends. Sometimes all we can see is how they let us down when we need them the most.
Recently, I called a friend I hadn't spoken to in almost nineteen years. I had purposely lost contact because I felt as if this friend didn't measure up to my expectations of a good friend. She had been my maid of honor and was even with me the moment I met my husband. We were very close and had gone through a lot together. Looking at my wedding photos, I realized I had not stayed in contact with any of my closest friends. I could have blamed my loss of friendships on so many things, but in my heart it was because I was harboring unforgiveness. The crazy thing is I didn't even see my feelings as unforgiveness; I simply saw people who weren't good friends. The problem really wasn't them; it was me.
The Lord knew Peter, one of His closest friends, would deny even knowing Him three times in one night. Talk about painful ... With all they had been through together, that had to hurt Jesus to the core. But Jesus knew Peter's heart. He understood sometimes our friends can't come through for us because of where they are personally. If we don't open the door of love for them to come through by forgiving them, we can be hung in a place where we never move forward. In
the case of Peter, he went back to his previous occupation as a fisherman. He didn't see himself as worthy to do what Jesus had called him to do. It wasn't until Jesus met with him on the beach that Peter could move forward in his call—knowing Jesus had forgiven him and still called him friend.
Love your friends. Sift them through the grace and forgiveness which Christ extended to you through the cross. As you reflect on past and present relationships, make sure you have done all you can to enable them to know His love and grace through you. Now grow and move forward.
(Photo courtesy of office.microsoft.com.)
(For more devotions, visit us at www.christiandevotions.us.)
---
---