For our struggle is not against flesh and blood, but against the rulers, against the authorities, against the powers of this dark world and against the spiritual forces of evil in the heavenly realms. Ephesians 6:12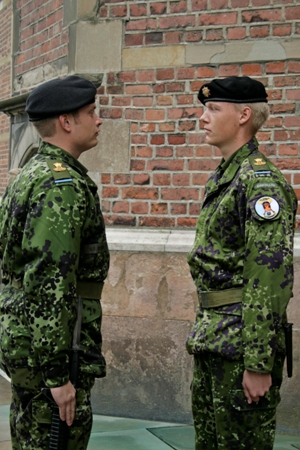 Drill sergeants banging a trash can down the hall at four in the morning, early training pushups, sit ups, and an agonizing seven-mile run became my routine when I went through Army basic training. After all that physical exercise, we were expected to go to class and stay awake. That was a tough adjustment for a new soldier. During class, the drill sergeant would walk around with a wooden ruler and yell WAKE UP!
Soon, we got the picture to stand up in the back of class if we
felt sleepy in order to stay awake and learn what we needed to pass our test.
Many unconsciously think they are tired in church because of lack of sleep or mind drifting, but Ephesians reminds us our struggle is against the powers of the dark world and spiritual forces in the heavenly realms. It's hard to pass the test if you are falling asleep. Failure is Satan's goal for you, and he is trying to keep you from hearing the Word of God. It takes discipline to push through the sandy eyes. If you snooze, you might miss your breakthrough to healing or an answer to a problem in your life.
When it comes to falling asleep in church, be honest and ask yourself, "Am I allowing the devil to make me drowsy in church?" It is possible to put all excuses aside and prepare yourself to receive the Word. After the military, I went to college and I would stand up if I was tired. Needless to say, people looked at me like I was crazy, but that's what I knew to do to stay awake. You don't have to go as far as me, but if you have this problem, pray. Ask God to keep your focus on His message and free from slumber so you can grow and receive the blessings God has for you.
(Photo courtesy of morguefile and pedrojperez.)
(For more devotions, visit us at www.christiandevotions.us.)
---
---