In this the love of God was made manifest among us, that God sent his only Son into the world, so that we might live through him. 1 John 4:9 ESV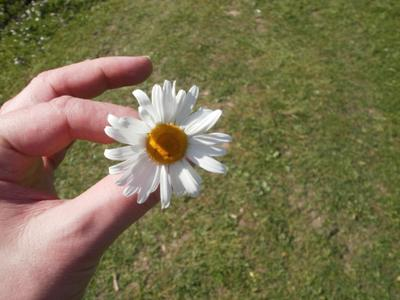 "He loves me, he loves me not." I plucked the white daisy petals, deciding the outcome of my childhood crush.
Years later during a church service, daisies on my dress stirred memories as I waited for my pastor/husband, Mike, to call me to the platform. He had asked me to share the long journey of praying for my father to come to Christ.
We watched the Billy Graham video "Hope for America—a Message of the Cross." As I waited for my cue, the white-and-yellow daisies seemed to blossom on my dress. The Lord put in my heart an image of plucking flower petals representing a young girl's hope for love. Hope found in the kind of love that goes to the cross.
As a young girl, I longed for love—especially from a father. In childhood, we form beliefs about God that often shape what we think about love. We deny God's existence or believe there is a God, yet form wrong thoughts about Him: God is a cosmic cop ready to bust us for every wrong turn; God is a disciplinary father-figure punishing us with stern consequences; or God is like our earthly father who abandoned us physically, emotionally, or both.
As a child, I saw my father every other weekend, a self-proclaimed atheist. He often said, "People think there is a God, but there isn't." At sixteen, I came to believe in God who sent his son Jesus to pay the penalty for my sin. At that moment, I started praying for my father to believe in God. Sixteen years later when I was thirty-two, my father accepted Christ. He finally realized there was a God—a God who loved him and wanted him.
There is a God. He loves us. Love originates from Him and is not conditional on anything we do or don't do. His love is not based on some whimsical hope of the last flower petal landing on "he loves me." It's the hope of true love found in the cross.
Plucking petals from a flower, we can never say about God, "He loves me not." It is always, "He loves me, He loves me, Jesus loves me." He loves you. Accept His love.
(Photo courtesy of morguefile and sasha7.)
(For more devotions, visit us at www.christiandevotions.us.)
---
---