And my God will meet all your needs according to the riches of his glory in Christ Jesus. Philippians 4:19 NIV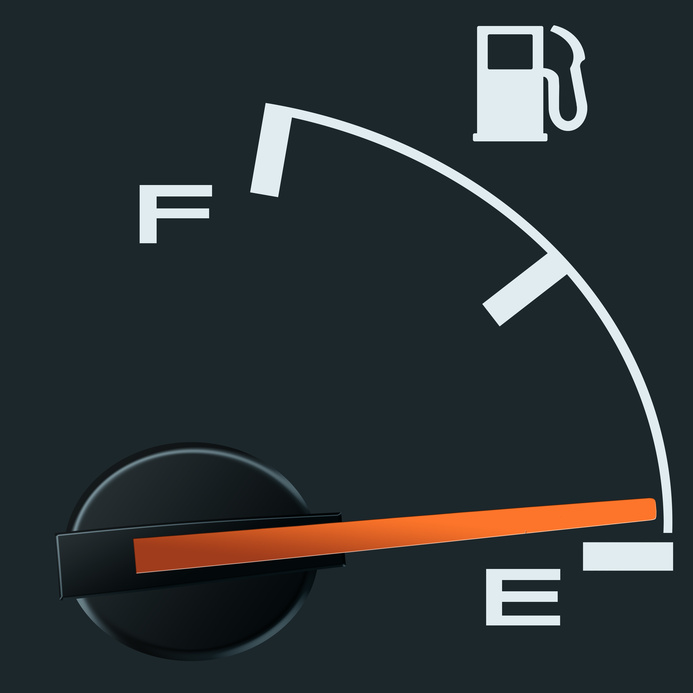 The gas gauge needle was near Empty.
I was on a remote road in Virginia, driving my son to football camp. With the excitement accompanying such an event, I paid little attention to the gas gauge. We were simply driving along, enjoying our conversation, envisioning passes caught for touchdowns and college scouts rushing over with full-paid scholarships. Then the gas gauge caught my eye.
Fear has a way of momentarily paralyzing the mind. We were dangerously close to running out of gas on a rural road that didn't have many gas stations. I'd driven this road numerous times. I knew there were few stations along the way, so I scolded myself for not stopping on the main highway in the larger town that we had just passed.
The irony of my predicament was I was in the left-hand lane passing a fuel tanker. Cruising along near empty, fearful of running out of gas on that desolate stretch of road, yet right beside me was a source of more fuel than my car could accommodate. If only there was a way to connect to that tanker as we drove. If fighter jets can refuel in flight, why haven't we figured out a way for cars to do it? I should have filled up when I could. Now my journey was filled with fear.
Life resembles that scenario. We sail along, enjoying the everyday experiences, without a care in the world—never noticing our spiritual fuel tanks are running low. Then, once we notice or sense it, we fearfully forget we have the source of all our needs riding faithfully beside us.
God promises to never leave us. He promises to meet our needs and asks us to talk with Him in unbroken fellowship. Yet we forget or become distracted from what is truly important. Even when we do remember to refuel, we are so busy in the routine of our lives that our quiet time with God is more like a "splash and go" than a full tank top-off.
The great news is, even when we forget, God remains beside us. He offers Himself fully to us. He wants to meet our deepest, truest needs—even when we may have something else in mind. Stay spiritually "fueled" so you'll be carried through the remote stretches of life without fear.
(Photo courtesy of office.microsoft.com.)
(For more devotions, visit us at www.christiandevotions.us.)
---
---