Enter through the narrow gate. For wide is the gate and broad is the road that leads to destruction, and many enter through it. Matthew 7:13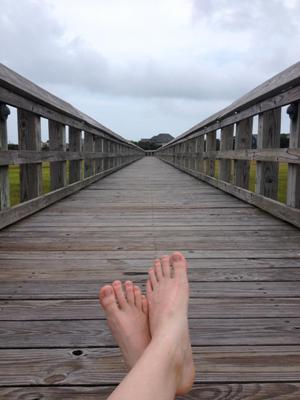 Christian recording artist Fred Hammond sings it spot on: "He's a bridge, so let Him take you over."
As I listened to these lyrics, my eyes focused on a carving on the wall in my house I hadn't noticed until that very moment. It was a faint carving of a cross that blended perfectly into the wall. Nevertheless, God allowed me to see and focus on it. What I saw in this carving were people. Not just a few, but millions upon millions of people coming from each end of the cross to the center. They were coming to the center of the cross because that's where the heart of Jesus drew them.
Jesus tells us, Enter through the narrow gate. For wide is the gate and broad is the road that leads to destruction, and many enter through it. The cross is our bridge that takes us to God. Without it, we're condemned to pay the price for our sins in hell which, unfortunately, the road of destruction leads to. But Jesus paid the price so we might confidently walk over the bridge to God. The gate and the road may be narrow, but the road is a smooth-flowing highway with no traffic jams, and it is available for everyone to walk across. The gate is narrow because there is only one way to enter the kingdom of God and that is through Jesus Christ.
Walk on the bridge of the cross to the Christ. Ask Jesus for guidance on this path that your eyes might be opened to the potholes along the way. Let Him be your Lord and Savior. He already died for your sins and paid your price, so let Him take you over to the Kingdom of Heaven.
(Photo courtesy of morguefile and Jamierodriguez37.)
(For more devotions, visit us at www.christiandevotions.us.)
---
---