For it is He who delivers you from the snare of the trapper. Psalm 91:3a NASB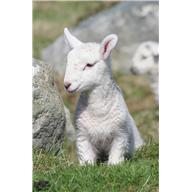 Plan A unraveled in the backed-up traffic crawling toward the intersection. I eased my car forward and grimaced at the dashboard clock. Impatient and anxious, I revised today's list, settling for plan B. I'd been feeling overwhelmed for weeks. Postponing some of today's errands would overload tomorrow's tasks.
I glanced out my window at the tiny sheep farm, now marooned by stately new homes. I usually enjoyed this rural haven, especially when new lambs wobbled next to their mothers. The traffic wouldn't budge, so I took a deep breath and studied the pasture nearest the road. All the sheep stood in small groups near the fences, except for one. As though waiting for instructions, that sheep stood by a tall pile of dead tree limbs. It was stuck, ensnared by the pile's outer branches. If traffic hadn't backed up, I wouldn't have noticed the lonely sheep's predicament. Why didn't it just step away? One good tug and it would be free.
Then I heard God's familiar whisper in my mind. "That sheep is you." I looked at the sheep and the pile of dead branches, puzzled. Scripture tells us we're like sheep. I knew God was my shepherd, but why was I like that snagged sheep?
A recent devotion I'd studied flashed through my mind. Before picking up my Bible, I'd checked the day's weather and skimmed my emails. On another morning, I would have read news briefs first— and Facebook. If I had time, I would have opened a devotional and rushed through it. But by then, the world's events would have swarmed in and snared me.
No wonder I'd been overwhelmed. I'd wandered away from spending time first with God before the world pushed in. Relief washed over me. Like that sheep, all I had to do was pull away. Tomorrow morning's priority would be time with God first, knowing my Shepherd would lead me through that day's tangles.
When you feel lost or overwhelmed, remember the Shepherd who watches over you.
(Photo courtesy of office.microsoft.com.)
(For more devotions, visit us at www.christiandevotions.us.)

---
---