Be alert and of sober mind. Your enemy the devil prowls around like a roaring lion looking for someone to devour. 1 Peter 5:8 NIV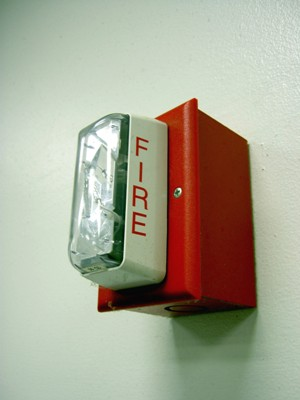 I leapt from my bed at the deafening alarm and strobe light flashing in my room. My first night of rest on a self-imposed writing retreat for hubby and me found us throwing on our clothes and scurrying down the hall. We raced to sit in our snow-covered car to wait out the all-clear. Strange how only one other person joined us outside.
A sign on all the exit doors issued an apology. Extended-stay hotels have kitchens. Cooking often sets the fire alarm off in the entire hotel. The next night the alarm went off again. After looking out the window and down the hall to see no one fleeing the building, we opted to stay in as well. Our ears rang, but we were warm and comfortable in our room. On the third night, we covered our ears with our pillows and stayed put.
This daily scenario caused me to stop a moment and consider. The first evening we did exactly what we knew to do. After that, we'd been influenced by all the other guests and staff. The consequences of our actions nil. After all, there was no fire.
Daily choices of righteousness are our fire-drill time for the big emergency. When evil begins to encroach around our lives, we either put into action what we have practiced daily on a smaller scale, or we react based on little compromises. We ignore the warning signs because no one else appears to be affected by them. We allow ourselves to get comfortable in disobedience.
Do I treat God the same way? My circumstance influencing my action, disregarding biblical cautions and those gentle nudges He whispers to me in prayer? What am I doing with the warnings God whispers in my ear? Am I filtering them through circumstances, or acting as He commands?
God may not send us a command with an annoying siren or flashing lights, but He will speak specifically to our hearts. The Bible contains no false alarms. Practice confidently its warnings. God knows the dangers ahead and He will protect you.
(Photo courtesy of morguefile and jdurham.)
(For more devotions, visit us at www.christiandevotions.us.)
---
---