Do not be yoked together with unbelievers. For what do righteousness and wickedness have in common? Or what fellowship can light have with darkness? II Corinthians 6:14 NIV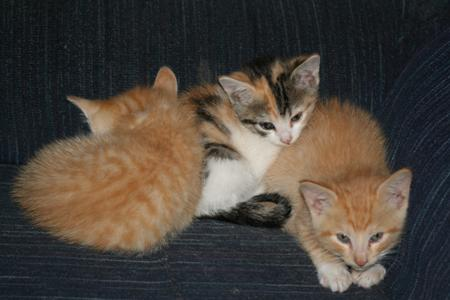 "Let me have some of yours, please!"
One of the feral kittens I feed on my deck is a five-month-old female. I can put food in six bowls on the deck, but where does she head? Right to where her mom or one of the males from her colony is eating. She rubs against them with her tail up and tries to take over their bowl. Occasionally she will go to the third, fourth, or fifth bowl, but only after trying this approach first.
At times, they allow her to take their spot and they move elsewhere. She would never do this with a cat that was not from her colony, because cats hang with their own colonies. When my girls were growing up, I always steered them toward being friendly to everyone. Closest friendships were to be with children who had good manners, attended church, were positive, and were interested in wholesome play.
Although we must let our Christian witness show when around individuals who do not believe in Christ, there is a limit to the time and degree we should associate with them. Too often, we find evil is more powerful than good. Perhaps as Christians, we should not try to fit comfortably into a non-Christian environment. Perhaps we should be uncomfortable and stand out. Being a godly influence is good, but not conforming (yoking) ourselves to a person who does not believe in or walk with God is essential.
God desires for us to fellowship with other Christians. There is a reason the Bible speaks of the fellowship of believers. Worship energizes us to face the "world" the rest of the week. Sometimes I come out of church or fellowship with other Christians feeling as if I can do anything because of the love radiating from them.
Make fellowship with other Christians an important, routine part of your life. You cannot live a godly life in isolation.
(Photo courtesy of morguefile and atroywy.)
(For more devotions, visit us at www.christiandevotions.us.)
---
---