Every good thing given and every perfect gift is from above, coming down from the Father of lights. James 1:17 NASB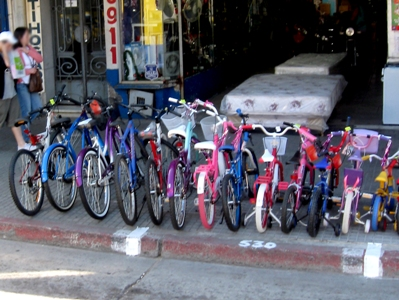 My first bicycle was love at first sight. A glittery purple; fuchsia to be exact with a little white basket. And best of all, a white banana seat. I was the coolest kid on the block with my new bike. My brother got a bike too, but I don't remember a single thing about his. Darting up and down our neighborhood streets, I applied the brakes liberally creating dramatic fishtails everywhere I rode. I don't even remember what happened to that bike. All that's left is the memory of a marvelous gift.
Years later, as an adult, I taught three doctors' daughters how to conduct themselves with poise and confidence during interviews for ivy league colleges. We worked through speeches, current hot topics, impromptu speaking, and what not to wear. Their grateful parents tried to pay me for services, but I couldn't accept due to community service restrictions. Nevertheless, on parent night, they presented me with a gift card to an upscale department store in our small city.
Those moms—doubt the dads knew about it—understood how to give a good gift. That particular gift card kept my wardrobe updated for months. Thoughtful and timely, good gifts touch a chord deep inside where the heart lives.
Our heavenly Father knows how to give good gifts too. His gift of salvation is priceless. What could be better than the certainty of knowing what will happen to our souls—the part of us that lives forever—when we die? He also gave the Bible to reveal Christ our Savior to us. Furthermore, He said we can call on His name whenever we need help because our enemy doesn't fight fair and never lets up.
Remember the God-gifts you've received with a grateful heart. His gifts are treasures to us; in fact, they're perfect!
(Photo courtesy of morguefile and Alvimann.)
(For more devotions, visit us at www.christiandevotions.us.)
---
---