My servant Job shall pray for you. Job 42:8b KJV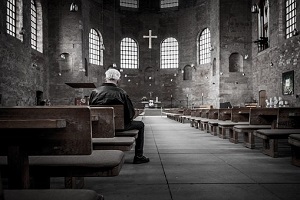 Before sunrise, Pastor Troy unlocked the doors of Countryside Church. It was his custom to pray for the people before they arrived. He touched the back of the pew where Bessie customarily sat.
"Father God, I lift Bessie to you," he said.
Outside, the sun crested as congregants arrived. Bessie had asked Sue to keep a secret. "The pastor visited a liquor store," she said as she lifted an empty whiskey bottle from the trash.
Pastor Troy glanced out the window. "Lord, I'm not worried about the tale she'll spin. The bottle is in the church trash because I gave Buster a ride home. I'll gladly help him again," he said.
The pastor had read where God invited Job to pray for three fickle friends. Job stood at the crossroads. His prayers could make a difference in the course of their lives, and this gave Pastor Troy the fortitude to pray for Bessie.
As he prayed for Bessie, his perspective changed. He now saw Bessie as broken, but reachable. He didn't see any changes yet, but he knew love would win. He also remembered the words Stephen prayed as the crowd stoned him, "Lord, lay not this sin to their charge" (Acts 7:60b). He recalled that Paul (Saul) had participated. Because of Stephen's dying prayer, Paul repented and became the most prolific Bible writer. Then he thought of Jesus' dying prayer, "Father, forgive them; for they know not what they do" (Luke 23:34b). While Jesus' enemies gambled for His clothing, He chose to extend forgiveness.
"Father, forgive Bessie too," Pastor Troy prayed as he brushed away a tear. He hoped his prayers could help rewrite Bessie's story. He moved to the next pew section—praying blessings on all who came to Sunday service, calling in salvations, healings, marital restoration, and family unity.
Then, walking toward the door, he prayed, "Father God, help me make Jesus' story real to every person You permit me to minister to. Help me to share Your Son's gift of salvation."
He swung the church doors wide. "Welcome!" he said, greeting each person with a hardy handshake. He knew a secret he longed for Bessie to learn: God's love transforms rivals into friends.
Ask God to show you people who need your prayers.
(Photo courtesy of pixabay.)
(For more devotions, visit Christian Devotions.)
---
---