Did not He who made me in the womb make them? Did not the same One fashion us in the womb? Job 31:15 NKJV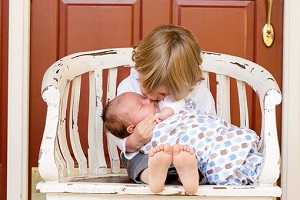 "I'm pale. The bags under my eyes are purple. My lips are drawn tight in a straight, thin line."
A young mother named Hillary Savole wrote these touching words shortly after the birth of her little daughter, Esme.
On May 18, 2019, the Wall Street Journal shared the story of Esme's birth: "limp, blue, and struggling." Then they made public a touching story about more than three billion DNA letters that "help determine our basic makeup, from our healthy risks to what we look like." The paper's comments were featured on page one, next to Esme's picture and her story.
I was shocked and thought, Can we even begin to fathom the fact that Almighty God uses more than three billion letters of code to produce each baby? No wonder each baby is unique and special, each having the same need of food, water, and touch, and each having the same potentials, such as creativity and being a child of God.
Each child is a gift of God's love, even if they have a slightly different code than the average baby. These special ones bring diversity to the world and an illustration of what could be. They are given to people with open hearts and souls whose prayers of concern, love, and trust make the world a better place. Unfortunately, many others take the miraculous for granted and devalue God's choice in favor of women's rights.
Without children, our world would be an overly quiet, serious, and boring place with self-centered adults robbing each park of beauty and joy.
Ask God to help you respect what He goes through to produce each baby.
(Photo courtesy of pixabay.)
(For more devotions, visit Christian Devotions.)
---
---