The eye is the lamp of the body; so then if your eye is clear, your whole body will be full of light. But if your eye is bad, your whole body will be full of darkness. If then the light that is in you is darkness, how great is the darkness! Matthew 6:22-23 NASB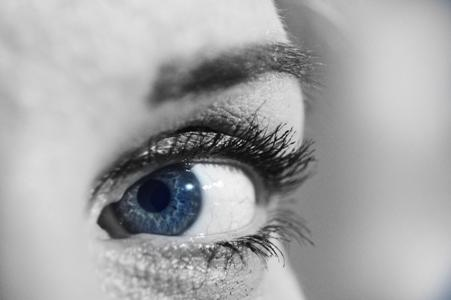 Everything looked black. The past had nothing but bad memories and regrets. The future wavered in a haze of insecurity. My present life seemed nothing but endless events, errands, and errors. Lots of errors.
Then in my daily quiet time, I came across the Scripture about the eye being the lamp of the whole body. Admittedly, my eyes were dark that morning. As the idea of the eye being the lamp registered in my sluggish brain, I had a single, profound thought. Considering the funk I was in, it was most assuredly the divine mercy of God giving me inspiration. The epiphany was . . . I have the wrong perspective.
I'd been looking through eyes of fear, dismay, and dread. However unintentional, I allowed fear to get the upper hand. For days, bad weather had me cooped up in the house, watching more news than usual. Simply put – the darkness outside and too many crime reports pushed me out of balance.
Whatever the reason, entertaining dark thoughts and the habit of worry is sin. I confessed to the Lord, asked his forgiveness, and moved on—determined to maintain a healthier perspective. While it probably won't be the last time I have to confess those particular sins, no matter how many times I miss the mark, God graciously forgives wrongdoing and sets my feet on the right road. He understands my humanity better than I do.
If we dwell on sorrow, our outlook will be sad and dreary. If we ask for grace to see differently, God will help us see any situation through His eyes of never-ending light.
Allow it to be your desire to have God's perspective. Then look through eyes of love, and your whole body will be full of light.
(Photo coutesy of morguefile and DeduloPhotos.)
(For more devotions, visit us at www.christiandevotions.us.)
---
---