He lets me rest in green meadows; he leads me beside peaceful streams. Psalm 23:2 NLT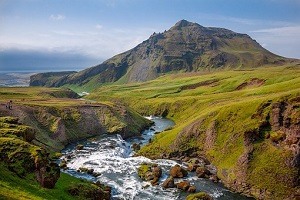 As a child, I scared easily.
In front of my bedroom closet hung heavy chenille blue drapes with a black jacquard pattern. The drapes reflected in my dresser mirror when I lay in bed. If I awoke at night, my eyes caught the shadows of the drapes, making me think a monster was leaping out. I shrieked. I felt calmer once my parents stood next to me and assured me everything was fine.
One worried day, I turned to Psalm 23. When I got to verse two, I cried, "Lord, if you are leading me to peaceful streams, how do I get there?" My occupied life prevented me from seeking God's place of rest. Once I admitted this, God reminded me He was steering me—but I remained somewhere other than there.
Letting go of fretful concerns is difficult. Fear entered my mind. I doubted my trust in God until I read Psalm 23. The psalmist illustrates God's benefits—benefits absent in my own journey.
God guides along right paths and renews strength while anxiety makes us feel weak. The mind plays what-if scenarios, causing fearful thoughts. To follow God's lead to peaceful streams takes renewed strength and assurance. We are not to fear our enemies because God is beside us to protect and comfort, even when we are led through dark valleys. God anoints, blesses, and pursues us with unfailing love.
Dark valleys trigger our imagination to believe all kinds of strange appearances, create shadows of evil, and give feelings of impending death. The valley appears vast and desolate without end. Our personal ghosts materialize when we walk through a dark valley alone.
God assures us everything is fine when He leads us to our peaceful stream. He is our shepherd and we are his sheep. We can trust Him to watch over us. He guides us along right paths, renews our strength, protects us, comforts us, and walks closely with us. He is leading us to rest beside peaceful streams in the presence of our enemies.
When you feel anxious and restless, let God lead you to a place of peace.
(Photo courtesy of pixabay.)
(For more devotions, visit Christian Devotions.)
---
---