Delight thyself also in the LORD. Psalm 37:4a KJV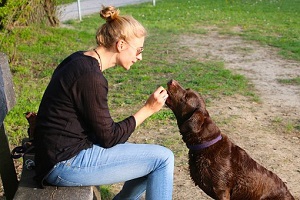 Every morning I prepare breakfast for our dogs.
I rotate between doggies, feeding them morsels from a designated fork. Occasionally, one will rise. If I say, "Sit," the dog listens, but only if I preface this with their name. Otherwise, they assume I'm talking to another pack member. Our senior pooch stomps during the entire breakfast. She wants to make sure I notice her. The youngest gal takes each morsel with gusto, and the youngest male snorts between bites. Theirs is a breakfast fit for champions.
As I fixed coffee one morning and reflected on my fur babies' morning antics, I decided it was time I had a breakfast fit for a champion. I chose this verse and nibbled on it all day: Delight thyself also in the LORD. I wanted to digest it slowly so God's goodness could seep into every cell of my being.
By the end of the day, I was ready for another morsel. On and on I nibbled, eating the Word as a champion's breakfast. God's Word applies to the spiritual as well as to the natural realm. His words are so kind. His thoughts toward me outnumber the grains of sand on a beach.
Sometimes I find myself thinking, Are You calling my name, Lord? I try to trust His promises to me, but when problems spill like cornflakes hitting the kitchen floor and I'm scrambling to pick up the crumbs, doubts creep in.
God wants us to receive the goodness He speaks about us. He loves us, and the banqueting table the Lord prepares for us is filled with juicy morsels. Pull up a comfy chair, scooch up to the table, pick up your fork, and dine. We are God's champion.
Ask God to help you dine with delight at His banquet table.
(Photo courtesy of pixabay.)
(For more devotions, visit Christian Devotions.)
---
---