See what great love the Father has lavished on us, that we should be called children of God! 1 John 3:1 NIV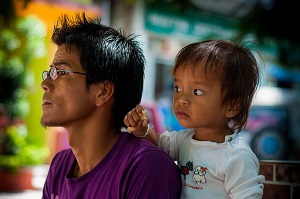 The call never came.
My boys waited for the phone to ring, and, once again, their dad failed the simple task of a call. I'm not sure which made me angrier: The fact their dad lied to them or the sadness on their little faces when the phone remained silent.
No one wins in a divorce. Everyone, at some point, pays a price. My price for a failed marriage was watching my two little guys be disappointed. I had no explanation why their dad opted to ignore them. All I could do was give them a hug. "I promise. I'll never let you down."
My youngest stared at the floor as he walked away. He was brokenhearted, and there was nothing I could do—nothing I could give to ease his pain.
My husband leaned against the wall and eyed my son. "I need some help. Can you give me a hand?" My son nodded.
Tim picked up his stepson and gave him a bear hug. "I love ya, son," he said, then dropped into the rocker and began to rock so hard his feet flew off the floor. It was only seconds before giggles rang through the living room and both boys were rocking with their stepdad. A simple gift. Immense love for children who were not his biologically, but ones he called his own.
Our Father in Heaven loves us so much that He pursues us. Even when we don't feel worthy or when our hearts are breaking, His love never fails. His love for us is so immense that He calls us His children. His. Children. How amazing is that?
In the moment of his stepchild's pain, Tim did what he could and gave what he could to show my son love. The biology brings about conception, but a real father makes the child. My boys grew into fine men, thanks to this wonderful stepdad.
The love of a good father shapes us in wonderful ways, just as the love of God shapes us eternally. Whether you have a good earthly father or not does not mean your heavenly Father turns His back. He is faithfully there.
Happy Father's Day. May the love of the good Father fill your heart.
(Photo courtesy of pixabay.)
(For more devotions, visit Christian Devotions.)
---
---