There are friends who pretend to be friends, but there is a friend who sticks closer than a brother. Proverbs 18:24 RSV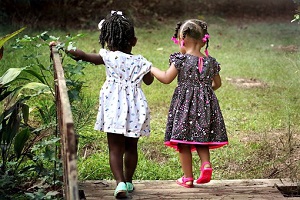 Occasionally, someone hugs me and says, "You're my best friend." This suggests I have made them my best friend.
Through the years, I have lived in many cities in several different states. The first thing I did after settling in was to pray, "Help me find a new friend, God. Someone I can trust, do things with, talk to. Someone who comes in on the same beam as I. Most of all, Lord, I pray she will be a Christian friend."
God answered my prayer each time, and I have good friends in many states. But these women were not necessarily my best friends.
Ten-year-old Elena once said, "You're my mother's best friend." I giggled when her mother chimed in and said, "Oh, Betty is best friends with everyone."
It made me curious. I looked up best in Webster's Dictionary and learned it means "excelling all others, the utmost." Not only people, but also things. Hmmm. How can I have more than one best friend—someone who means more to me than any of my other buddies? And how can I possibly be a best friend to more than one person?
Even newspapers get in on the best friend game. One determined pets are our best friends. Now, I like my two dogs. A lot. (I like most of my friends even more.) But do any of these come first in my life? Would I give up my life for them? Would the dogs or my friends do so for me? Afraid not.
Only one person always puts me first: Jesus. He always remembers my birthday and loved me before I was born. More importantly, He gave up His life for me. But not just for me. He gave it up for you as well.
Jesus is the one we can all call our best friend. Make Him yours.
(Photo courtesy of pixabay.)
(For more devotions, visit Christian Devotions.)
---
---