Thank God for this gift too wonderful for words! 2 Corinthians 9:15 NLT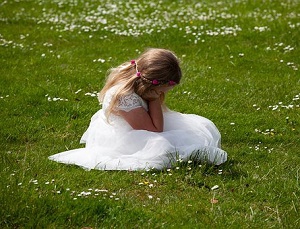 "You gave me these just to hurt me," cried my five-year-old daughter from the back seat of the car.
My daughter loved for me to bring her little gifts when I picked her up after school. A friend at work often brought me her children's outgrown clothing or toys, and my daughter came to expect these gifts.
Before I left work one afternoon, I looked for something to take to her—something special from her mama. I found a small bag of potato chips in the vending machine. Although this was not the healthiest of snacks, I knew she liked chips. I didn't realize she had chapped lips, and the salt made them burn. I hoped to please her with my gift, but she accused me of hurting her.
Sometimes, we act this way with God. He gives us gifts every day, but we overlook them. We forget to thank Him. We get upset with Him for not answering our prayers the way we think He should. But He might be at work designing a gift that may bring us a bigger blessing than we ever imagined. The Lord knows what lies ahead. We need to be thankful and trust He has our best interests at heart.
Many of God's little blessings are often overlooked. A colorful sunrise or sunset. An invitation from a friend to meet for lunch. A family member who helps us with inside chores or outdoor yard work. A smile from a neighbor. Kind words spoken to our troubled heart.
Little gifts and blessings can impact us in big ways. They're even better when we share them with others.
Just as I wanted to do something special for my daughter, God desires to bless us because we are His children. We need to remember the little gifts He gives us every day. These blessings remind us of His presence and His love.
Make a list of things you are thankful for.
(Photo courtesy of pixabay.)
(For more devotions, visit Christian Devotions.)
---
---