Be careful, or your hearts will be weighed down with carousing, drunkenness and the anxieties of life, and that day will close on you suddenly like a trap. For it will come on all those who live on the face of the whole earth. Luke 21:34, 35 NIV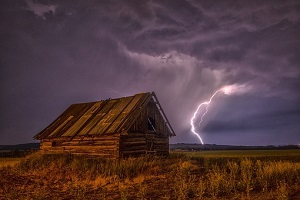 The brilliant blue-white flash and the accompanying ripping crash of thunder brought me out of my nap in my office chair.
The wind hit the house as if God himself was knocking and wanted in badly. The warnings about this weather system had blared all day. The television weather-heads were beside themselves in their earnest misgivings. The computer monitor flashed continuous threats as Accuweather—the National Weather Service—and Weather Underground all chimed in with their concerns. Finally, my phone also joined the fun—beeping, dinging, and buzzing for my attention. Severe Thunderstorm Warning! Seek Shelter Now!
I ignored them and took a nap instead. The constant onslaught of dire weather warnings in this age of constant communication has all but caused me to tune them out. This past winter we endured snow warnings. Three inches, five inches, and eight inches were all forecast breathlessly. In the end, we didn't get the first snowflake.
But that was then; this was now. This time they had gotten it right. The house shook from the wind, and thunder roiled the atmosphere. I went to the front door just in time to see my heavy grill cover lifting from the grill. Stepping onto the porch, I was immediately blasted by the wind. Grabbing the grill cover, I wrestled it back into place and secured it with a block of firewood.
Incredibly, the wind got stronger. Small limbs blew past me. As I watched, the lawn chairs around the firepit lifted and flew toward the woods. Moving to get back inside, I cracked opened the storm door and felt it rip out of my hand. I grabbed it with both hands and stepped back inside. It took all my strength to pull the door shut. We survived with only a downed tree, fallen limbs, and a ripped camper canopy.
However, there is another storm coming. Indeed, it is already here. And God's Word is full of strident warnings about it's coming. The Bible's great summation—its "take away"—to the entire story is the Book of Revelation. And Revelation's beautiful message is simply this: Jesus IS coming back, and tribulation and persecution will precede His coming.
We have been warned. The alerts are sounding. The time is close ... so very close.
Think of something you can do to get ready for Jesus' coming.
(Photo courtesy of pixabay.)
(For more devotions, visit Christian Devotions.)
---
---