Let the heavens rejoice, let the earth be glad; let the sea resound, and all that is in it;let the fields be jubilant, and everything in them. Psalm 96:11 NIV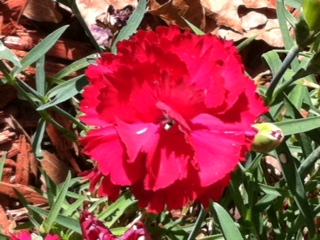 Although it was spring, the weather wasn't cooperating. A chill hung in the air. I donned my stocking cap and jacket and settled onto the seat of the riding lawn mower. My EarPods in place, I pulled up the playlist on my iPhone. Today it would be Bebo Norman serenading me as I mowed round and round the yard behind our barn.
A few years back, my husband decided it was safe to put me atop the zero-turn mower and let me go. I wondered what I would do during the hours the mower held me captive. I soon discovered it was a perfect time to sing, pray, and worship. As I bounced along today, lost in the strum of Bebo's acoustical guitar and his raspy mellow voice, I remembered why I enjoy mowing so much.
I love being out in nature, especially when spring awakens. The sounds, smells, and colors heighten my senses to God's creation. New life emerges, bursting forth in splendor. Today I glimpsed the vibrant feathers of a bluebird as it swooped by and disappeared into the woods. Bumblebees hovered over wildflowers. When the mower approached, they shot upward in an angry dance, darting all around me. A bunny hopped about nibbling on fresh green grass blades. Robins flitted to and fro above the ground searching for worms.
Along the wood's edge, damp air smelled of musty trees. Tiny wildflowers dotted the vast lawn. It appeared as if God had grabbed a handful of seed and scattered it across the grass before the land snuggled in for its winter nap. When spring arrived, miniature flowers bloomed everywhere. This year was the first I remembered seeing so many colorful flowerets. Pink. Purple. White.
As I mowed, I gazed upon God's creation and thanked Him for His amazing display of artistry. I understood how the psalmist could lift his voice in such praise. He, too, marveled at the brilliant color pallet and vast array of earthy aromas God so loving provided.
Everywhere I looked, God's breathtaking majesty beckoned me. And when the final strip was cut and the mower turned off, I sat in wonder. Awestruck, I considered the depth of His handiwork and counted my blessings.
Take time to enjoy God's creation. Spend a moment today. Soak it in. Discover the wonders of nature and the blessings God so freely gives.
(For more devotions, visit us at www.christiandevotions.us.)
---
---