Create in me a clean heart, Oh God,And renew a steadfast spirit within me. Psalm 51:10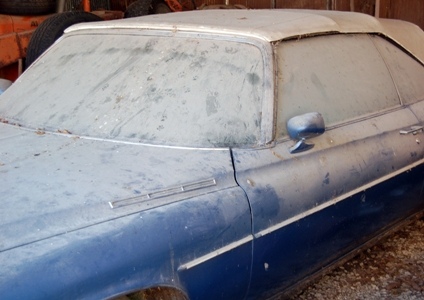 Seldom does a dirty car appear in our church parking lot. There's an unwritten code of only driving a clean car to worship. A couple of Sundays ago, recent rains had churned our half-mile driveway into mud that coated our vehicle, so before arriving at our church, my husband and I decided to drive into an automatic car wash. Our Ford Escape rolled forward ten feet, the sprays began, huge cloths flapped, and then everything stopped.
"We've only five minutes before the service begins," I said. "Maybe you should look for the attendant?"
"I'm trapped." John pointed to a pipe outside his door that prevented him from opening it.
A car following ours honked its horn, and two attendants raced onto the sidewalk, eyeing the situation as John rolled down his window.
"Could you open the main door so we can drive out?" he asked.
The young people fiddled with some switches, the wash half-heartedly began, and the huge garage door opened. As we emerged, the lad handed us a free pass, and we zipped over to our church, leaving a trail of bubbles.
Just like we felt the need to wash our car before showing up at church, I mulled over how seekers and believers often assume we need to clean up our actions and thoughts before we can give our hearts to Jesus. The truth is, He hands out free passes that will wash away our sins, our selfish thoughts, and continue to clean us as we follow Him. Somehow, that truth tends to recede midst our misgivings so we think the grace we need must be earned.
Probably no one at my church would have judged my filthy car. Only John and I were worried that its exterior prohibited us from attending church. From now on, I tell myself to take those extra minutes before the worship service begins, to talk to the One who will keep me clean and prepare my heart for Him.
(Photo courtesy of morguefile and Ladyheart.)
(For more devotions, visit us at www.christiaindevotions.us.)
---
---