My frame was not hidden from you when I was made in the secret place, when I was woven together in the depths of the earth. Psalm 139:15 NIV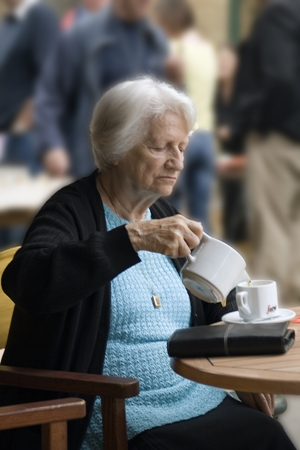 I watched as my mom crawled from the backseat of the car and pecked on my window.
"I love you." She mouthed. I smiled and shouted it back.
Mom is 88 years old. Her hair is snow white and though she's "old" by most people's standards, her complexion is as beautiful today as it was twenty years ago. She toddled toward the porch and I suddenly realized . . . I mean really realized . . . my momma is elderly.
It's amazing how in my eyes, she's the same mom I remember as a child. Her hands still quilt, she still makes the meanest creamed corn on the planet, and her personality is still the same as it was years ago. If I were to get sick, she would be camped out on the floor by my bed.
The truth is – my mom's stature has shortened and her hair has greyed. Though she walks well, her stamina isn't what it used to be. She chills in the middle of the summer, and her confidence wanes when it comes to making major decisions. I'd swear her hearing aid isn't up to snuff when she doesn't hear me, when the reality is, her elderly "selective hearing" has kicked in (there's not a hearing aid in the world loud enough to fix that). Despite it all, I love my mother more than life itself.
After she gave birth to my brother, she wanted another child but couldn't seem to have one. So I know for a fact, my mother longed for me. When she'd crawl in bed at night, silent sobs and tears lulled her into sleep. My mother really wanted me and when she learned, twelve years after my brother's birth, that she would be a middle-aged mom, she made every moment count.
Mom has taught me to be a lover of my heritage because that is my roots. She's guided me to be kind and encouraging. Taught me to be a jack-of-all-trades, "If it needs to get done, figure it out and do it." Her ways groomed me into deep faithfulness to my friends, family, and my God.
When God knitted me together within her womb, He answered her prayers. He sweetened her life with the blessings of motherhood. Mom is elderly. And when I think about her entering her last years, I'm grateful she is in great health. Overjoyed that she still teaches me. Amazed that she is still as beautiful today as she was when I was a child.
God knew what He was doing when He graced our mommas with a unique love. And though they are not exempt from having their days numbered, they are – for all due rights, wearing special crowns.
Don't let the day pass without telling your mother you love her. For she was gifted you by the Father and given a place of honor.
(Photo courtesy of morguefile and Geert.)
(For more devotions, visit us at www.christiandevotions.us.)
---
---