And we know that all things work together for good to those who love God, to those who are the called according to His purpose. Romans 8:28 NKJV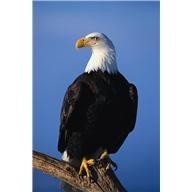 I hate to wait. What's even worse is when I hurry up and wait. In the hustle and bustle of life, I speed up and slow down, then speed up again until I drop at the end of the day. This is certainly not the way God intended me to live.
Waiting is something we must learn to do, and God uses the example of an eagle to teach us. Eagles have been observed and timed sitting on a rock early in the morning for as much as twenty minutes. They have big tears rolling down and wetting their feathers while looking up to heaven. Then the eagle will wait on the wind, spread its wings, and soar into the air.
What an awesome example of sitting in God's presence. That's being face-to-face and heart-to-heart with the Creator of the universe. We pour out our love, thanksgiving, and praise to Him, then listen to what He has to say. God gives us instructions for the day. He adjusts our attitudes and gives us a right spirit. That sets the stage for miracles and interventions as we walk step-by-step through the seasons of our lives.
Waiting doesn't mean sitting around in our recliner expecting God to bodily grab us out of the chair and sling us into a pile of money, or sit us in the front seat of a new sports car. God could do that, but He probably won't. We have to do something ourselves.
Isaiah says those who wait upon the Lord shall renew their strength; they shall mount up with wings as eagles; they shall run and not be weary; they shall walk, and not faint. One minister said "wait" means, "Those who persistently pursue God's purpose and those who patiently endure God's dealing."
The Bible says, Faith without works is dead, so it's a must for us to spend time with God and His Word daily. Then we can enjoy the destiny He has for us. An awesome future is ahead for the committed believer who truly learns to wait on the Lord.
You have an appointment with the King. He's waiting.
---
---