After breakfast, Jesus said to Simon Peter, "Simon, son of John, do you love me more than these?" John 21:15 MSG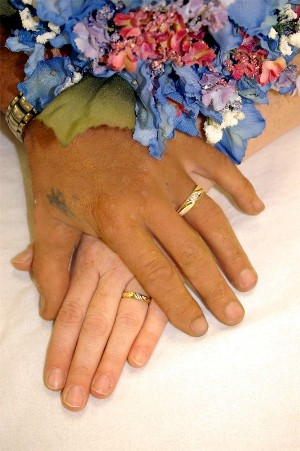 The marriage vows were beautiful … almost magical. I listened with heightened awareness as the bride and groom repeated the timeless words, "I do" and "I will." The young couple made promises to each other and created a covenant meant to last a lifetime.
As I heard the vows being made, I thought about how we enter our relationship with Jesus—our Bridegroom.
Jesus asked Peter, "Do you love me?"
Peter's answer? "Of course I do, Lord."
Jesus asked men to follow Him as His disciples and they said, "I will."
Jesus still asks questions of His followers today: Do you trust me? Will you serve me? Will you forgive your brother? Will you be obedient to My Word?
Too many of us make hasty vows when we need to be rescued from a bad situation. "God, if you'll get me out of this, I'll do anything you want me to do." Then, when He makes the slightest request, we come up with a multitude of excuses and renege on our vow.
Making vain promises to God we have no intention of keeping is not what He wants. His desire is for us to come to Him with a heart of love and adoration, giving ourselves completely to Him for all eternity. No strings attached. No fine print. No loopholes. And no backup plan. In turn, we are given a husband, father, savior, protector, provider, comforter, healer, counselor, and a trusted friend.
A covenant with our heavenly Bridegroom means everything we have is His, and everything He has is ours. All we have to do is believe and receive. The best news is that this covenant is not "until death do us part." In this relationship, when we cross death's threshold, that's when the real celebration begins.
If God is speaking to your heart today—asking, Do you love me? Will you serve me?—let your answer be, "Yes, Lord. I do and I will."
(Photo courtesy of morguefile and Earl53.)
(For more devotions, visit us at www.christiandevotions.us.)
---
---