These things I have spoken to you, that My joy may remain in you, and that your joy may be full. John 15:11 NKJV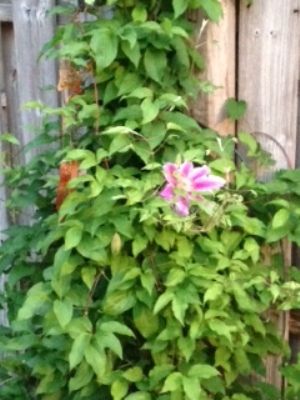 Last year I purchased a plant in early spring. I selected an attractive vine to grow on a beautiful trellis in the back corner of our yard. It looked great when I brought it home, leaves healthy and green, blooms in vibrant color. My husband dug a deep hole and planted it, then carefully wrapped the delicate tendrils of the vine around the trellis. We watered it and looked forward to new growth and a flowering plant to enjoy among the others in the flower garden.
Then it went through a phase I would guess was transplant shock, so I tended to it with large doses of loving care. This involved more watering, fertilizing, pruning, and daily checking on its progress. Nothing I did made it thrive as I hoped it would do. Instead, the best way to describe my new vine was to say it's alive and hanging in there. I was disappointed because I wanted more for this new vine. I wanted it to thrive.
As I wished for more for this struggling new plant of mine, my thoughts turned to people and how we sometimes live our lives. We are alive—breathing, walking, existing, and going through our days with little hope and few expectations. We are often merely hanging in there. But not thriving. Not embracing the fullness and richness that God intends for us to experience in our daily walk with Him.
For my plant that was hanging in there, I continued to tend to it and hoped it would eventually thrive. For you and for me…we can make a choice concerning how we live. We can do better than just hanging in there. There is a much better way. We can choose to thrive.
Let's claim the fullness of joy and abundant life Christ came to give us when our lives are hidden in His. We can live in the promise of John 15:11 because we were made to thrive.
(Photo courtesy of mwiles.)
(For more devotions, visit us at www.christiandevotions.us.)
---
---