Even though I walk through the valley of the shadow of death, I fear no evil, For You are with me; Your rod and Your staff, they comfort me. Psalm 23:4 NASB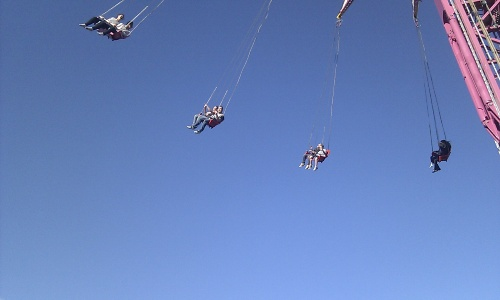 Sunshine poured through the glass doors, beckoning me out to the rope swing in the backyard. I climbed on and with a push from a friend, soared over the ravine. The line broke, dropping me into twisted roots, rock, and earth. The force crushed five vertebrae and ignited my fear of heights.
Many years later, on the last day of a Guatemalan mission trip, I was given the option of riding the peaceful swells of a boat over a volcanic lake or racing down the side of a mountain on a zip line. I chose the boat. At my declaration, disappointment flickered through my husband's eyes. He covered it well, with a reassuring smile and a gentle squeeze. My heart sank, I was letting down this man who more than accommodates my insane fear.
Staring out the bus window, I prayed for courage and comfort, knowing my fear was not founded in Christ but in the enemy's manipulation. Nothing, not even death, could hurt me because I am cemented in the salvation of Christ. Butterflies filled my stomach as I agreed to go on the zip line.
Tension burned through my body. The first young man, a crazy daredevil sort, let his hands loose, swung in mid-air, and roared with elation. God used this carefree example to give me courage. My turn came. Hooked on the thin wire, I stood, feet planted. I barely heard the guide tell me to go. On the second attempt to move, my feet lifted and I was off. My breath left my lungs, eyes wide and frozen on the distant landing spot. I earnestly prayed.
My legs hit the ground. I stumbled to the side, and a nervous laugh erupted. I made it. By the power of the Lord, He got me through unharmed. On the subsequent flights, I began to enjoy the view, first the mountainside waterfall, then the tranquil azure lake, and finally the treetops I flew above. I would have missed God's beauty and a shared experience with my husband if my fear had continued to rule me.
Do not let fear—imagined, learned, or real—stop you from participating in God's world. When faced with fear, call upon God's power and sink into His strength and might. He will be there, strapped-in next to you, hanging on so you won't fall. Afterwards, thank Him for never leaving you.
(Photo courtesy of morguefile and ThesisWhisperers.)
(For more devotions, visit us at www.christiandevotions.us.)
---
---