The name of the LORD is a strong tower; the righteous run to it and are safe. Proverbs 18:10 NIV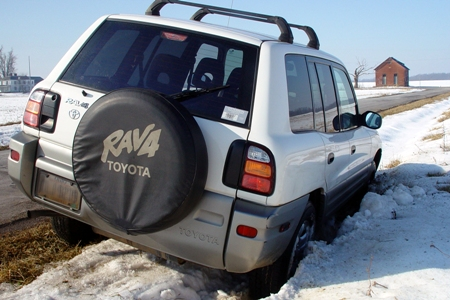 The snow blew sideways and deepened as we drove the interstate back to my son's college. Ray's eyes were fixed on the road, as if by careful watching he could help navigate. With one hand on my cell phone, the other on the steering wheel, I called to advise someone on the other end we'd be late. The car began to fishtail. I dropped the phone as our car slammed into the side of the truck next to us. "Lord Jesus!" I cried as I took my hands off the wheel and closed my eyes.
Spinning around, the car bounced onto rough ground and rolled to a stop. We ended up in the ditch between the east and west-bound lanes of traffic, uninjured. Ray stared wide-eyed at me. I dialed 9-1-1 and reported our emergency. "I'm sorry, Buddy. Thank God you're okay," I murmured.
I can't think about that day without thankfulness flooding my heart and tears filling my eyes. The strong tower of Jesus' name is the only safe place when life spins out of control. Psalms teaches us that some people trust in the things of this earth, but our trust should be in the name of the Lord. Instead of running to call a friend or opening the refrigerator . . . call on the Lord. Rather than waiting until our spouse gets home . . . talk to God—now.
When you face a difficult decision or life has taken an unexpected turn, go to God in prayer. He hears, cares, and answers. We may call on the powerful name of the Lord Jesus Christ and find refuge no matter what we face. Then sing this testimony with the congregation: "Blessed be the name of the Lord!"
(Photo courtesy of morguefile and click.)
(For more devotions, visit us at www.christiandevotions.us.)
---
---