Come unto me, all you who are weary and burdened, and I will give you rest. Matthew 11:28 NIV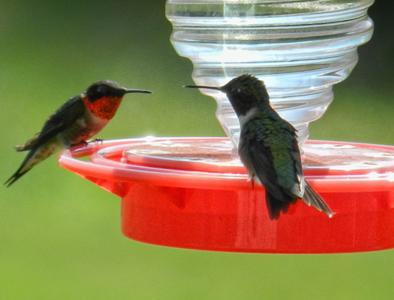 A buzzing blur zoomed toward the hummingbird feeder outside our kitchen window. Wings beating about fifty-two times per second, the rubythroat hovered near the food site, snatching only short sips of the sweetened water.
Hover and sip … hover … hover and sip … hover ...
Repeat … repeat … repeat ...
Not once did the little wings stop. Not once did the wee jewel settle on the perch. I grew tired just watching.
"Oh, please find the perch!"
Another rubythroat zoomed in, hovered, and sipped. Once, twice, three times.
Then something wonderful happened. The bird realized it could pause. It could put its full weight on the perch my husband had lovingly added to the feeder. It could rest. I watched the hummingbird fold its wings and take leisurely drinks of life-sustaining sweetness. Sometimes it looked around. Sometimes it chose to simply be. Ah, rest. I could almost hear it sigh with delight.
"Dear child," the Holy Spirit asked me, "what can you learn from the birds?"
Much. I am too busy. Too hurried. Too much darting. Too worried. Too hasty at the Fountain of Life. Quick sips of Scripture. Small snatches of prayer. I miss the perch … unmindful it's there. I waste energy striving when I could be resting.
Resting. Drinking long and deep from Living Waters. Resting. Taking in the beauties of His realms both seen and unseen. Resting. Simply being in His life-giving presence. Ah, sweet rest. And then we fly, together.
Are you weary and exhausted? Too scheduled to breathe? Jesus bids you come and drink. Come learn from Him. Come be refreshed. And don't forget the perch. The Spirit of God will easily bear your full weight. Just rest a while with Him. Then fly.
(Photo courtesy of morguefile and pippalou.)
(For more devotions,visit us at www.christiandevotions.us.)
---
---