Your thoughts toward us cannot be recounted to you in order. If I would declare and speak of them, they are more than can be numbered. Psalm 40:5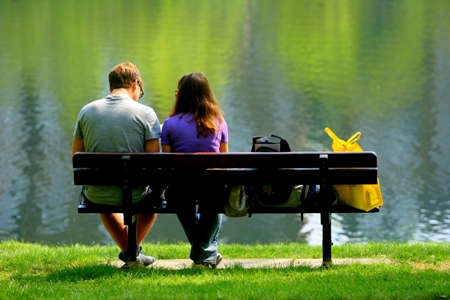 First love. Remember?
I'll never forget my first major crush—Freddy. He had blue eyes, a sprinkle of freckles across his nose, and curly blonde hair. The fact that he had a really sweet ride didn't hurt either. Because we lived in the same apartment complex and attended the same school, we saw each other every day. It wasn't long before we were an item. Freddy and Lori sittin' in a tree K-I-S-S-I-N-G. I woke up thinking of him and went to sleep thinking of him. I even dreamed about him. Everyone knew we'd get married one day, and I knew it was serious when he let me drive his Big Wheel.
Our relationship ended when I moved away in third grade. I cried for weeks. I thought about Freddy today when I read Psalm 40. A psalm of David, this beautiful, poetic psalm describes God's glorious redemption of sinful man. It was the fifth verse, however, that caught my eye and sparked a trip down memory lane.
If you've ever wondered what God thinks about, here's your answer—He thinks about US! Not only thinks about us, but thinks about us all the time. Like a schoolgirl crush on a cute boy, God is enamored with us, besotted with us, and captivated by us. Thoughts of us fill his days and crowd his nights. He studies us, knows us better than we know ourselves, and eagerly desires to spend time with us. He loves bestowing gifts on us and thinking of ways to bless us. But he will never move away in third grade. He is committed to us FOREVER.
How does it make you feel when you realize that the almighty God of the universe thinks about you 24/7? For me, it's a very humbling thought. As my former pastor often says of God's love, "I can't earn it. I don't deserve it, but I am humbly grateful." And gratitude is the appropriate response.
Why not take a few minutes today and express your thanks to God for his great love toward you? And then choose to live in such a way as to make him smile.
(Photo courtesy of morguefile and hotblack.)
(For more devotions, visit us at www.christiandevotions.us.)
---
---