As a result of your ministry, they will give glory to God. For your generosity to them and to all believers will prove that you are obedient to the Good News of Christ. 2 Cor. 9:13 NLT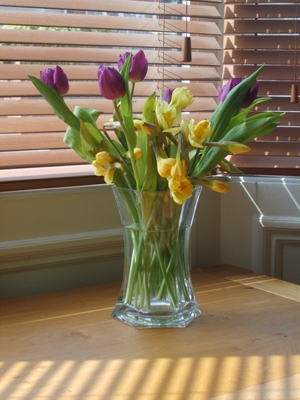 I lifted the vase of beautiful flowers—red roses, yellow iris, purple larkspur, various fillers—and reflected on the fragrant blessings from God. Earlier years left little time for my favorite hobby, but with a home office, I sandwiched work with breaks of meandering through my gardens.
I enjoyed giving away plants and cut flowers. My husband—and delivery service—shared my passion. He took bouquets to nearby neighbors or delivered to distant friends. When our neighbor's husband died, I asked how I could help. She said, "Would you make a bouquet? Bob would not want us to buy a lot of flowers, but he would be pleased with yours." My roses were the single arrangement at his memorial.
Our church's floral committee occasionally requested flowers to fashion into exquisite arrangements. A nearby small congregation we frequently visited used artificial arrangements on their altar. They had no budget for flowers. A long-time member and friend asked me to prepare centerpieces for their church's Thanksgiving banquet. I agreed, and the member's unexpected praise showed their appreciation for fresh flowers and my efforts.
Soon, bouquets of roses mixed with my unusual bird-of-paradise graced their sanctuary. Often the pastor of twenty-five-plus years, as well as numerous people in the congregation, personally thanked me for the arrangements. I received calls, notes, and comments from people I hardly knew expressing their enjoyment of my flowers.
The pastor's wife, with the daunting task of decorating the altar each week, loved to tour my gardens. When we went out of town, I left the garage door opener accessible for her to retrieve flowers from my garage refrigerator and invited her to roam the gardens for more. What had started as a hobby had become a ministry.
While I had served in various church positions, a flower ministry never entered my mind. The Apostle Paul pointed out that there are different ministries, but we all serve the same Lord. We serve with what we are given to His glory, and He blesses others through us.
God gives each of us different talents and abilities. What a joy to serve through the fragrance of a flower ministry. Share your simple gifts. They don't have to be elaborate, just given with love.
What unusual ways will you find to serve?
(Photo courtesy of morguefile and GedC.)
(For more devotions, visit us at www.christiandevotions.us.)
---
---