Fathers, do not exasperate your children; instead, bring them up in the training and instruction of the Lord. Ephesians 6:4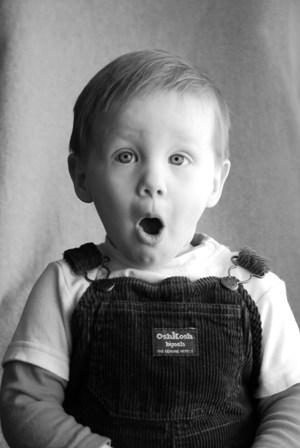 I've only heard my daddy curse once in fifty-seven years. That was also the only time I ever heard him raise his voice—just that once. It is an amazing record, considering the volatility of our household growing up. My dear late mom didn't handle "stupid" very well, and I'm afraid I spent a great deal of time being exactly that. However, where my poor mom would be a whirlwind of sound and fury, Dad was always very careful in speech. He listened and responded in calm, carefully-articulated complete sentences like the schoolteacher he once was. My dad is a rock, but oh how I tried his patience over the years.
"What were you thinking?" he'd ask.

There was the time I enlisted the help of my brother David to dam the creek in our back yard. We picked our spot and, with shovels flying, quickly had the water backing up … and up … and up some more. Eventually, we had a new pond that covered parts of three yards. Meanwhile downstream—where carefully manicured lawns had featured arched stone bridges over the beautifully meandering creek, there were now smelly, muddy ditches where goldfish huddled together in the bottom of what was once a lovely fishpond.

When our makeshift dam let go, water cascaded downstream, collecting ornaments, bridges, goldfish, one Irish setter, and Mrs. Mitchell—who had come out to see where the creek had gone. Later that evening, after two mud-caked boys had retrieved, cleaned, and replaced said bridges and ornaments, washed the Irish Setter, and apologized profusely to a very unhappy—not to mention wet—Mrs. Mitchell, it was Mom and Dad's turn. I got the brunt of Mom's patented roaring dragon, but then it was Dad's turn.

"What were you thinking?" he asked. That was all he said. It was all he had to say.

But the one time I heard Dad lose it, I was innocent. It happened when I was ten years old. We were camping at Mt. Pisgah off the Blue Ridge Parkway and had pulled into the little camp store with our Starcraft Camper in tow. The parking was tight, and it was worse that day because the area was packed. Suddenly a car started backing toward us, the driver oblivious to us. Dad was blocked in, no place to move, no place to go. The car backed closer and Dad frantically leaned on the horn. The other driver glanced up and hit his brakes. He missed us by inches. As he got out of his car, Dad opened his door and cut loose with a string of words I'd never him utter before or since.
Dad has always been my living example of what my Heavenly Father must be like: quiet, patient, and always loving … no matter what mess I manage to get into. He has always been the perfect example of what a father should be. While I'm grateful to still be able to speak to him, I'm afraid I don't tell him enough how much I love him.
Dad. I do love you so very much.

My heavenly Father also needs to hear from me. Not just formal prayers, ritual blessings for food, or Sunday services, but an occasional heartfelt: "Thank You, Father. Thank You for Your blessings, and thank You for Your love. Lord, I love You."

Has it been too long since you had a heart-to-heart with our Father? What were you thinking?
(Photo courtesy of morguefile and can131.)
(For more devotions, visit us at www.christiandevotions.us.)
---
---