Peace I leave with you, my peace I give unto you: not as the world giveth, give I unto you. John 14:27 KJV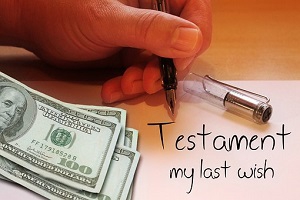 In one episode of the TV program, Touched by an Angel, the main angels on the show taught a newbie angel about life on earth. Later, the newbie angel told her assigned human that people "can leave something behind on this earth when they go to heaven."
Personally, I'll leave three children, five grandchildren, and at least seven great-grandchildren behind. I've passed along some of my special rings to the granddaughters and some personal treasures to the boys too. But mostly, I want to leave something of eternal value.
When Jesus left the earth, He left promises. He also left behind men with whom He had spent countless hours, teaching them about God's kingdom. He instructed them in prayer, commissioned them to share His message, and also enriched many generations to come.
My husband and I passed along a love for God and His Word to our children, and they have imparted that love to their children. That will make a difference in their world. Our son, Kent, told someone that "Most mornings when we got up for school, Mom was up and had the Bible and other study books lying on the kitchen table as she studied her Sunday school lesson." I've given my worn-out red and black Bibles to my granddaughter, Amanda. Hopefully, she will treasure the notes in the margins.
While most parents have a will so their children will inherit certain things, many of us will not have great possessions to bequeath.
We can leave peace. Peace is a quality I hope to leave for my family to pass along. A young teen visited our home a few times and said, "Your home is so peaceful." We didn't tolerate drama in our home or negative talk about others.
We can leave an example of giving offerings or to mission causes too. This shows them where our heart and treasure lie.
We can also be intentional about letting our families see us reading the Word, meditating, praying, and sharing God's truth. My niece's son said, "If anyone makes it to heaven, it will be my Papaw. He constantly reads his Bible."
Our families' future depends on what they believe. Lead by example. Don't be silent.
Think of creative ways to let your family see what you stand for and how to prepare for their eternal future.
(Photo courtesy of pixabay.)
(For more devotions, visit Christian Devotions.)
---
---