So she (Naomi) departed from the place where she was, and her two daughters-in law (Ruth and Orpah) with her; and they went on their way to return to the land of Judah. Ruth 1:7 NASB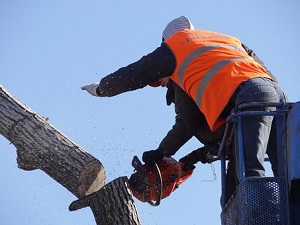 The tree loppers worked hard.

Our yard backs up to a school playground. We rose one morning to the sound of chain saws. The workers were removing a mistletoe-infested tree from the school yard.
Tall and majestic and a leafy haven for local birdlife, the tree was there one day, gone the next. The sounds of the birds disappeared. All was quiet. No longer did we experience the music of baby birds learning to feed and fly.
Change also occurred for us. Our view changed. Our yard now laid bare and open to all passersby.
Sometimes, God does this to us. When we become comfortable—settled in our ways and content with our rate of growth—He rips something from under us and propels us into another level of awakedness.
At first, we only see what we have lost. But as God gently opens new doors and possibilities, we see our lives afresh as new hope arises.
Ruth, a Moabite who married a Jewish son of Naomi, faced a similar situation. When these two women both lost their men to death, Ruth followed Naomi back to her homeland, an arduous journey with an unknown future. But God had great plans for Ruth. She resettled and eventually became King David's great-grandmother and an ancestor to the Messiah, Jesus Christ.
As we sat in front of the fire during the winter months, we reflected on the change the tree loppers brought to our comfort zone. We gained enough wood to heat our home the whole winter. Birds, too, are slowly returning to our backyard.
Adjusting to sudden change can be traumatic. Sometimes life throws us unto unfamiliar territory. Change gives us opportunity to remember God always accompanies us wherever we go, whatever we do, and whatever happens. Then, peace invades our hearts as we explore those new horizons He opens, which help us mature into the image of Jesus Christ.
Allow God to make the changes needed for you to grow. He is trustworthy.
(Photo courtesy of pixabay.)
(For more devotions, visit Christian Devotions.)
---
---