I say to the Lord, "You are my Lord; apart from you I have no good thing." Psalm 16:2 NIV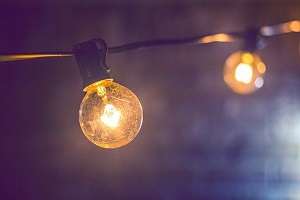 If there were an organization called Rascally Monkeys Anonymous, Mimi would be its poster child.
Mimi, a pet ring-tail capuchin, ruled my friend's home throughout the 1950s. This energetic monkey was the strong-willed, creative, hyperactive problem-child in this family of eight—the one whose inherent naughtiness could not be blamed on either side of the family.
Her antics included flooding the bathroom and living room carpet with cascading water, swinging from chandeliers while cradling raw eggs, tossing bright-colored packages into the grocery cart, and shaming the next door bully-dog with her screeching and stick flailing. Her repertoire could fill volumes.
But Mimi, being half-smart, taught me one lesson I'll never forget. She knew the light bulb in her outdoor cage was the source of warmth on chilly nights. Smart. So every night, she unscrewed the warm bulb, wrapped it in her blanket, and held it closely. The warmth lasted about as long as you could say, "Not smart."
Mimi herself cut off the source of her comfort. The family had to put a cage around the bulb so it could stay plugged in and keep her warm.
If we're honest, we may find we're a bit like Mimi at times—those times when we acknowledge that the Lord is our Source, yet remove ourselves from Him and try to go it alone. The times when we walk by our Bible on our way to look for self-help books, or when we forego prayer time and instead pour our problems out to a friend with a willing ear.
Books and friends are important, but when trials hit, we don't want to be half-smart, embracing something that's been removed from the source. We want to be plugged in to the ultimate Source of wisdom, truth, and strength.
Whenever you find your life in a power-shortage, think of Mimi and turn to the Source.
(Photo courtesy of pixabay.)
(For more devotions, visit Christian Devotions.)
---
---