The Lord your God has blessed you in all the work of your hands. He has watched over your journey through this vast wilderness. These forty years the Lord your God has been with you, and you have not lacked anything. Deuteronomy 2:7 NIV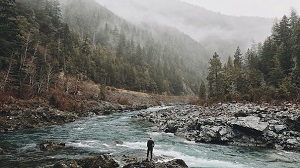 I once stayed with a dear friend in the hospital as she watched her husband fight for each breath.
Her husband needed a liver transplant. In previous months, his health had deteriorated, and now doctors had admitted him to the ICU. She did not know if he would survive the night. The battle for healing lasted not one night, but years.
Through the journey, I observed my friend's attitudes and actions with amazement. She played and sang worship songs continually, and she served her husband with joy, rarely leaving his bedside. In the struggle, God provided for their needs again and again. Despite the enormous medical bills and time off from work for months at a time, they always had enough financially. They witnessed God's sufficiency firsthand.
God carried my friend and her husband through their wilderness experience, just as He did the Israelites. Years later, they found out they were expecting their first child.
God is alive and active. He performed miracles in the past, and He is still capable of meeting the needs of His followers today. Does this mean God is a genie, granting our wishes and desires every time we ask? No, but He loves us, and He loves giving us good gifts.
In valley seasons, we can remember how precious and valuable we are to God. He is Immanuel, God with us. We can lift our concerns to Him, knowing He has our best in mind. His thoughts and ways are higher than ours, and He has a plan.
When in your wilderness, trust in God's providential provision.
(Photo courtesy of pixabay.)
(For more devotions, visit Christian Devotions.)
---
---