Then make its seven lamps and set them up on it so that they light the space in front of it. Exodus 25:37 NIV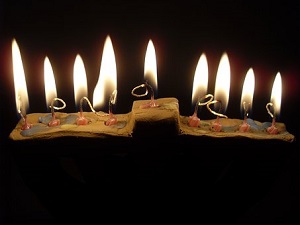 The troubled girl sat across the desk from me in my law office.
She was in a dark place: homeless, without transportation, in a toxic relationship with her mother, and separated from her young daughter whom the state had removed from her care. Now she was unexpectedly pregnant.
We discussed her life and current situation at length. She wanted to provide her baby with a stable and loving home—something she had never experienced. Therefore, she planned an adoptive placement.
"Miss Alice," she asked, "would you come to the hospital to do the adoption paperwork with me?" Then she made a heart-breaking statement. "Other than my grandmother, you are the only person who has ever been nice to me in my life."
I had never met this girl before. What could I possibly have in common with her grandmother? Then I remembered the girl telling me her grandmother had taken her to church when she was young. That was it. The grandmother and I were both Christians.
The tabernacle's lamps shone brightly. Years later, Jesus said His followers were the light of the world.
As Christians, neither the girl's grandmother nor I can light up the entire world. But in caring about this girl, we lit up the area in front of us where she was. She recognized God's light in her place of darkness and was drawn to it.
Like the tabernacle's lampstand, each of us is placed in a specific location for a specific purpose and should shine the light of God's love into the darkness around us.
Ask God to put people in your path who need to see His light. Then, light up their darkness.
(Photo courtesy of pixabay.)
(For more devotions, visit Christian Devotions.)
---
---