I was hungry, and you gave me food. I was thirsty, and you gave me something to drink. I was alone and away from home, and you invited me into your house. Matthew 25:35 NCV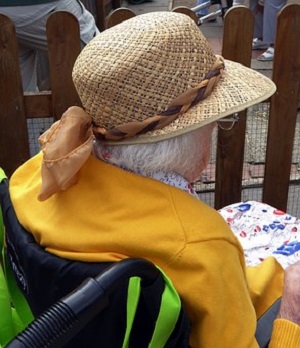 All she wanted was help.
The elderly woman had gray hair and rode in a wheelchair. She got on the Metro link at the Brentwood Station and rolled herself into the handicap seat in front of me.
A man with earbuds stood near the door. She asked, "Sir, can you help me? I need help getting off at Civic Center Station." He didn't respond, so she asked again. He stared into space and ignored her.
As I watched, the Lord changed my poor attitude. I realized I was being just like the man with the earbuds. When we neared her stop, I told her I would help her. I pressed the intercom button and told the train operator that a lady needed extra time to get off. Once I wheeled her off, I asked the security guard to help her get onto the correct bus. Then, I watched the guard wheel her up the ramp and onto bus plaza.
Jesus refers to helping people—all people at all times. Because of our sinful nature, we tend to put our needs first instead of looking out for others. As Christians, when we are confronted with situations as I was, we should step up and help. All this woman wanted was assistance getting off at her station.
Be willing to stop and help someone. When you do, you show the world Christ's love.
(Photo courtesy of pixabay.)
(For more devotions, visit Christian Devotions.)
---
---