Now faith is the assurance of things hoped for, the conviction of things not seen. Hebrews 11:1 ESV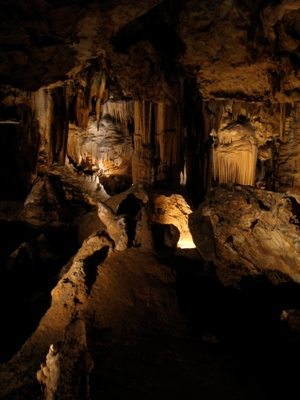 If we had to do it over again, we probably wouldn't take a two-year-old on a cave tour. My mother was carrying my niece as we explored the highly commercialized cave—oohing and ahhing at the spotlighted formations—when we came to the TCD portion of the tour. That's when those loving little arms around my mother's neck became a vise grip.
Have you ever experienced TCD or total cave darkness? The tour guide escorts you to the deepest, darkest part of the cavern, then turns off the lights. The darkness confuses the mind. Your eyes are open, but you see nothing.
You no longer see the stalagmites and stalactites, but that does not mean they don't exist. The truth is, you can't see them unless light shines on them.
Hebrews is often referred to as the Hall of Faith. Faith is referenced twenty-seven times in forty verses. So what exactly is faith? The author uses the Greek word pistis, which gets translated as faith and is defined as "belief in the truth." Truth being a verified or indisputable fact.
Christians are often encouraged—or accused—of having blind faith, while a popular American idiom says that seeing is believing. Even modern definitions for the word faith imply believing without logical proof or material evidence. Yet, in Hebrews 11 we are given evidence to support the truth that God is able to do what He has promised.
The Bible proclaims Jesus is the Truth and the Light of the world. He is the Light that reveals Truth. The evidence supports the fact that our blind faith is believing the Truth even when we can't see Him.
When your circumstances escort you to the deepest darkest cavern of your soul, fix your eyes on the truth of Jesus and believe—even when you can't see. When you experience TCD, is it total circumstance darkness or total Christ dependence?
(Photo courtesy of morguefile and mconnors.)
(For more devotions, visit us at www.christiandevotions.us.)
---
---