God majestic, praise abounds in our God-city! His sacred mountain, breathtaking in its heights - earth's joy. Psalm 48:1 MSG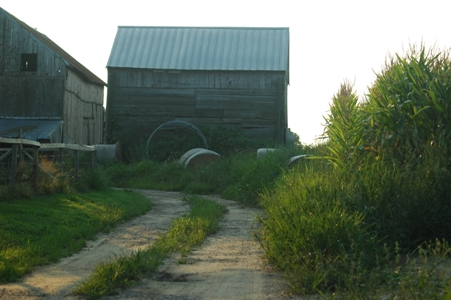 My family heritage has roots in small-town America.
America Maxfield, my maternal grandmother, lived in the foothills of Virginia. When my twin sister and I were seven, we lived with our grandparents for a few years along with our mother—moving from our birthplace of El Paso, Texas, to a town in the southwest mountains of Virginia, Big Stone Gap. Our mother grew up here and so would we. A younger sister would come along a few years later.
My grandfather bought and sold scrap metal at a junkyard he owned, visible from their house and nestled at the bottom of the hill. A long, curvy, uphill driveway led to their home.
Childhood memories are filled with the trek up and down the driveway by foot or bicycle—catching the school bus or going to the junk yard to see my grandfather. My grandmother spent a lot of time in the kitchen and had snacks ready when we came in from playing.
I was an adult and married with children of my own when my grandmother passed away. Asked to give the eulogy at her funeral, I gathered notable things to share. Stories and memories from my mother, aunts, siblings, and cousins.
The prevalent snapshot in my mind is beautiful flowers that lined both sides of her driveway in white, pink, and purple. Each color captured her essence. Accepting Christ as Savior in her younger years, she was clothed in a white robe because of His sacrifice. Pink blush always brushed her cheeks—a woman adorned with outward beauty (America the Beautiful) and displaying the inner beauty of Christ. Purple is a symbol of royalty—unashamed of her King, Jesus.
I grew up in the breathtaking view of the southwest Virginia foothills. Today, I am growing up in the Lord. Following Jesus to the foothills of God. One day, the heavenly view will take my breath. I will bow at his feet, crown Him with everlasting glory, and worship the Most High for all of eternity.
Will flowers line the streets in heaven? I'm not sure, but my grandmother will be there and so will Jesus. Follow Jesus to the foothills of God. Praise abounds in His city—let it take your breath away!
(Photo courtesy of morguefile and mensatic.)
(For more devotions, visit us at www.christiandevotions.us.)
---
---