Jesus said, "Let the little children come to me, and do not hinder them, for the kingdom of heaven belongs to such as these.? Matthew 19:14 NIV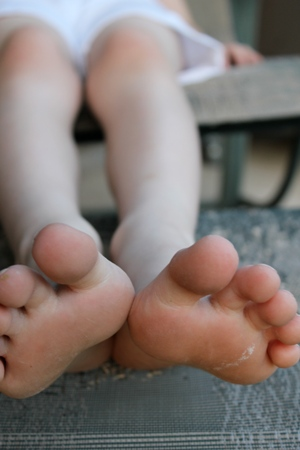 Stinky Feet — He Said
I was married in Saint Marks Church at the age of five. The pastor's son performed the ceremony in the basement of the sanctuary. I didn't ask the bride's father for permission, but he didn't seem upset by the news that his only daughter was getting married. I think he was just happy she was finally potty trained.
Our wedding rings were large and ornate things cut from a brown grocery bag. We were trying to make a social statement and that statement was, "The pre-school class wants more craft projects and fewer Scripture memorization lessons!"
We concluded the ceremony by doing what most couples do on their wedding night. We got naked—at least from the knees down. I helped Peggy out of her shoes and socks and then kicked off my sneakers. Next, we sat on the floor and smelled each other's feet. We were Methodist. Baptists would never think of doing such a thing. I'm pretty sure they forbid the touching of toes too.
The marriage didn't last, though. I forget why. It may have had something to do with different nap times. But for a few hours at least, we threw caution, not to mention our shoes, to the wind. That's how kids are. They do crazy things like believe in Cinderella stories and Piggy Toes, and that new crayons are cool and adults aren't.
I think that's one reason Christ said, "Let the little children come to me." He was tired of eating with the adults. He wanted to sit with the girls and boys and throw cake, pop balloons, and laugh until His sides hurt.
It's a scary thing to think the Kingdom of God belongs to kids, but that's what He said. Perhaps what He really meant was the Kingdom of God belongs to those who seek adventure, love smelly feet, and long to run through the halls of the King's castle.
What dour duty keeps you from sharing in your Master's joy? God desires our love, not our duty. Isn't it time you cast off your shoes, ran barefoot through the grass, and played footsie with your Lord?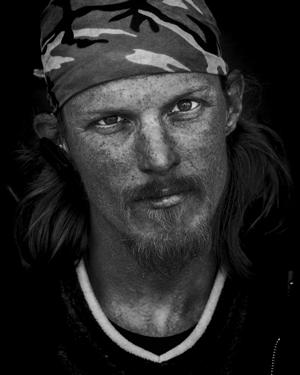 Safe in His Hands — She Said
We stood staring at the credit union computer. A picture of our son, standing in front of an ATM, filled the bank executive's monitor.
"Do you know this man?" he asked, tapping the screen.
My husband's shoulders shook as the color drained from his face. With his knuckles resting on the desk, Tim nodded. Then he stepped back and leaned against the wall. I thought, Thank God. At least the boy had the good sense to steal from his brother's checking account and not from a stranger.
A prodigal child isn't that unusual. The more I talk to others, the more I find most every family has one. Still, that day it felt like we were the only ones in the world with a child who'd gone awry. This boy, the youngest of four, had drifted down a dangerous path, and it seemed as if there was nothing we could do to stop it.
I'm not sure anyone can imagine the dull ache that lingers when a child rejects what is right and chooses the wrong path. "Tough love, that's what he needs," well-meaning friends said. "Press charges. Kick him out. It's for his own good."
We didn't. Two years passed. He never came back. Then last winter, as I stood by my mother-in-law's casket, I caught a glimpse of a tall, slender man with shoulder-length hair and a beard. Whispers filled the chapel as those in the receiving line asked, "Is that him? The grandson that went missing?" My husband ran to our son and wrapped his arms around him.
Christ said, "Let the little children come to me, and do not hinder them." Prison bars hinder. Addictions hinder. Pride and shame hinder kids from returning home.
Jesus called the children to His side. He healed, taught, and touched them. When His disciples tried to push the children away, Jesus pulled them close.
Our prodigal son wandered off after his grandmother's funeral for who knows where. But we rest in the assurance he's safe in the hands of Christ. We have hope in that promise. And we pray and trust that someday God will lead him back to the arms of a loving Savior who is ready to forgive and restore.
If you see our son wandering the streets, do not judge him by the way he looks or for what he's done. Just send him home, please.
(Photos courtesy of morguefile, KellyP42, and BBoomerindenial.)
(For more devotions, visit us at www.christiandevotions.us.)
---
---