Because you are his sons, God sent the Spirit of his Son into our hearts, the Spirit who calls out, ?Abba, Father.? Galatians 4:6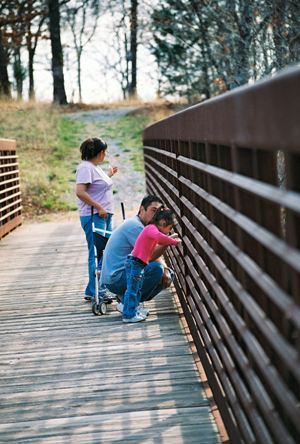 "I do too have a daddy," my four-year-old sister Carol said, stomping her foot. Her little friend, Sandy, would not be convinced. My sister, Linda, and I came to Carol's defense and confirmed we did indeed have a father. Even my mother's intervention couldn't stop the doubt.
But in 1964 it certainly looked like my mother was a single parent. Dad was an air traffic controller with the U. S. Air Force. He had moved his family to southern Illinois to be close to our other kin before going to Vietnam for one year.
Our lonely year was filled with letters and gifts arriving daily in the mail … constant reminders of our father's love. Carol would rush to show her friend her gifts or tell her we received a letter. Still, Sandy doubted. When the year ended and Dad arrived home, Carol dragged her friend into my parent's bedroom where our father was sleeping after his long flight home.
"There's my daddy," Carol exclaimed, pointing at his sleeping form.
How often do we find ourselves assuring people we really do have a Heavenly Father who cares for us. He sends us assurances of His love in the Scriptures. Jesus gifts us daily through answered prayer. But until those around us can experience Him in their own hearts—until we can direct them to Him and declare, "There's your daddy"—they will doubt us. And until they truly see Him with the eyes of the Spirit, they will always view our father as a figment of our imagination.
They will be watching us, observing what manner of father we have by the lives we lead. One day they will see as the Holy Spirit draws them, and they will declare, "I do too have a daddy."
Stand firm in your belief. Your Father is watching.
(Photo courtesy of morguefile and taliesin.)
(For more devotions, visit us at www.christiandevotions.us.)
---
---