Create in me a clean heart, O God; and renew a right spirit within me. Psalm 51:10 KJV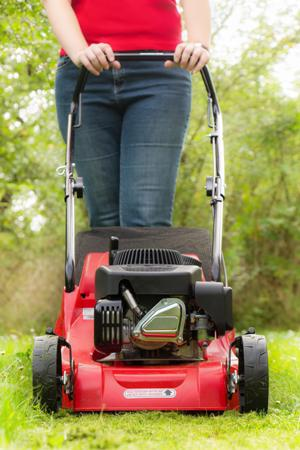 I'm not an outdoors type of girl. I'm not crazy about summer heat, bugs, sweating, mowing ... The list could go on and on. I'm more of a winter person where I can stay snug and warm inside while watching the snow gently fall, blanketing the earth.
It was the middle of summer and the lawn needed mowing. Again. My husband suffers from bad allergies, so mowing isn't his favorite thing to do. Since our boys are grown and gone, it falls on either him or me to perform the task.
I didn't want to be the one to do it. I returned home from a conference and was tired. My hand was still sore from hand surgery a couple months prior. I could come up with any number of excuses why I shouldn't be the one to perform the dreaded job.
But because I love my husband, I chose to mow. In no time, sweat poured down my face and back. Did I mention I don't like to sweat? When I mowed under the pine tree, I felt something in my hair—a caterpillar. I ripped it off and threw the bug to the ground. By the time I'd worked my way to the apple tree, I was insect bait for some other creature.
As I continued to battle the bugs and sweat, I couldn't help but look back at the lawn I'd already trimmed. Somehow, it gave me a sense of accomplishment … even though I knew it wouldn't last long before it grew again. While I worked, God brought this verse to mind: Create in me a clean heart, O God; and renew a right spirit within me.
Just as the grass continues to grow and need mowing, I also need to go to God and ask Him to clean my heart. It's not a once and done type of thing, but a continual process like mowing the lawn. When I'm not paying attention, "bugs" crop up and "weeds" prevent me from having a clear view of my Savior.
It's only when I ask God to do the tending that I end up with a clean, groomed, beautiful heart. I don't know about you, but I'll never look at mowing the lawn the same way again. God and I will be tending hearts this summer ... and cutting grass. Let God tend to your needs too. He is faithful with His love and care.
(Photo courtesy of morguefile and FidlerJan.)
(For more devotions, visit us at www.christiandevotions.us.)
---
---