The god of this age has blinded the minds of unbelievers, so that they cannot see the light of the gospel that displays the glory of Christ, who is the image of God. 2 Corinthians 4:4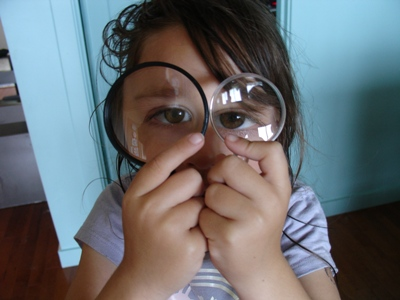 Contact lenses. That was the first thing I bought myself when I was old enough to earn a little money. All my life I had worn thick, heavy magnifying glasses to compensate for poor vision. On the day the doctor moistened my first pair of contact lenses and placed them on my eyes, it was a moment as miraculous as the day Jesus moistened the earth with His saliva and healed a man born blind.
As a child, I was unmercifully teased about my glasses. Huge eyes magnified beneath pale-blue frames earned me the title of "blonde beast from outer space." When that lost its shock value, a campaign to belittle me over the name Penny began with taunts of "One cent, one cent, nothing but a one cent."
The agony ended when my grandfather discovered me crying on my way home from school. Through a flood of tears, I spilled my story.
"Well, you know, sweetheart, they're right. You are One Cent," he said.
I could not believe my ears. How could this be? My grandpa was agreeing with my tormentors. "You are one sent from heaven, and you're my special angel. Remember that each time they call you One Cent and smile ... because you know it's true."
Surgical implants will soon end my wearing contact lenses altogether. My natural concern over the implants' success diminished when I saw a bowl filled with glasses discarded by patients who no longer needed them. The doctor's receptionist explained, "We call it, 'sharing the vision'. The glasses are donated to the Lion's Club Recycle for Sight Program that enables millions of people to see."
As followers of Christ, we have a similar opportunity to "Share the Vision" of the gospel with a world where minds have been blinded by the god of this world—the devil—also known as the prince of darkness.
Ask God to open your eyes to the truths He has for you and then for opportunities—in His perfect way and timing—to share the vision with others.
(Photo courtesy of morguefile and Kakisky.)
(For more devotions, visit us at www.christiandevotions.us.)
---
---