Though they stumble, they will not fall, for the Lord holds them by the hand. Psalms 37:24 NLT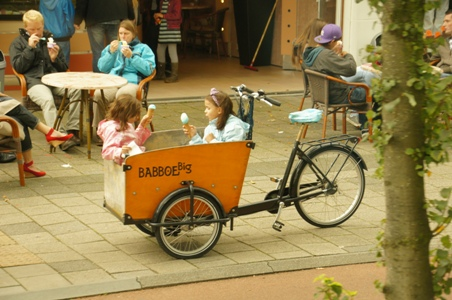 The scene played out in front of my house as a man rode his bike down our street. Attached to his bicycle was a co-pilot bike trailer, a contraption that allowed a child to ride in tandem with an adult. Perched on the seat of that co-pilot bike was the man's young daughter. That afternoon as I relaxed on the front porch, I caught a glimpse of the two heading my direction.
"I never fall when I'm with you," I heard the girl speak as they cruised down the road.
Her father was silent as he peered ahead and peddled continuously.
Seated directly behind her dad, the girl gripped the handlebars and peddled as fast as she could. Her head bobbed side to side as she looked right then left. Because his back obscured her forward view, there was no way for the girl to see what lay ahead. The father was in control while the daughter was content with her rear position and secure with her dad as her guide.
Several minutes later, their journey brought them back to my street. "I love riding my bike with you, Daddy. I never fall when I'm here with you." Her words floated towards me as the duo passed my house a second time.
Her father glanced at her and gently responded, "I love riding with you too."
As the two peddled away, I reflected on their interaction. The confidence the girl placed in her father is similar to the childlike confidence we learn from Christ as we place our trust in him. Although God knows the best path for us, we sometimes struggle with letting go of control. However, by yielding our will to Christ, we allow him to freely direct our every step.
Because the girl's bike was securely attached to her father's bike, she could not fall. Even though we may stumble on our journey in life, Scripture reminds us God is by our side to help steady our footsteps.
What's keeping you from placing your trust in Christ? God is trustworthy and has our best interest in mind, even when we cannot see the road ahead.
(Photo courtesy of morguefile and Jusben.)
(For more devotions, visit us at www.christiandevotions.us.)
---
---