The Lord is near to the brokenhearted and saves the crushed in spirit. Psalm 34:18 ESV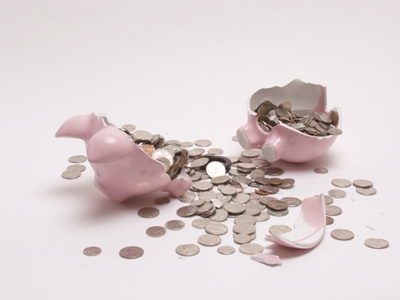 When I was in elementary school, I went to my grandparents' house for the weekend. I made my way to the bedroom and started playing with one of my grandma's porcelain piggy banks. It was beautiful. Light blue and pink. So delicate. A little too delicate for someone my age because I dropped it and watched as it shattered into hundreds of little pieces.
Frantic, I rushed to my grandpa. He could fix anything, and he tried to clean up my mess. He used superglue and took each little piece and put it back together. Unfortunately, my grandma was more observant than anyone bargained for. She poked at the fixed piggy bank, and that's when the superglue failed grandpa and me. The beautiful porcelain bank shattered once again.
As humans, our souls are like the most delicate knickknacks on our grandparents' shelves. One hurtful word can shatter us. When that happens, people say we're nothing but damaged goods. No one can help us now. That's when we take the tiny pieces to the person who can fix anything.
We go to God's throne and give Him this handful of shards. It's all that's left of us, and we're hoping He has enough superglue. He takes the pieces and, one by one, places them exactly where they used to be. He glues them together with His love, grace, and mercy, and then sends us back into the world that broke us.
This world will destroy us a second time and a third, and it'll keep breaking us. We'll find ourselves back at God's throne time after time. That's the trouble with being human. On this earth, we will always be damaged goods. We will always be broken.
The Psalms remind us the Lord is near to the broken. No matter how many times we come to Him, pieces in hand, His superglue will never fail us. And, one day, we'll be far away from this fractured world.
In heaven, there isn't a single crack in your piggybank.
(Photo courtesy of morguefile and mconnors.)
(For more devotions, visit us at www.christiandevotions.us.)
---
---