Fathers, do not provoke your children to anger, but bring them up in the discipline and instruction of the LORD. Ephesians 6:4 ESV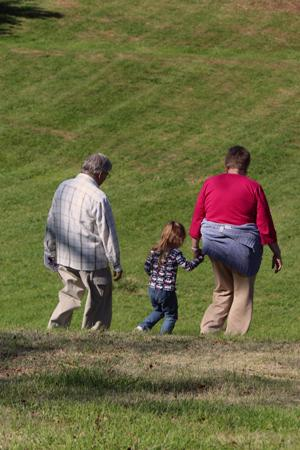 I have been given a second chance at parenting. While most grandparents have the luxury of spoiling their grands and sending them home, our granddaughter has lived under our roof for most of her five years. She is a joy—and a challenge. Let me just say chasing a toddler was a whole lot easier when I was twenty-five.
During my first chance at parenting, I followed the current trends in parenting, and they didn't work so great. They advocated a TLC approach—treat them tenderly, love the child, and care for their self-esteem. Sounded good, but created some problems.
That strategy proved faulty, so given a second chance, I turned to the Scriptures. I spent many unproductive hours scouring the Bible for a positive parent role model. I looked at Noah. Nope. Then at King David. Not hardly. Even Abraham, Isaac, and Jacob fell short.
I had to be missing something. I lifted my eyes from the pages and aired my frustration to God, "Where should I look?"
When I finally lifted my gaze to the Father, I saw the perfect parent. I noted His parenting strategy. He taught a different form of TLC.
Train – I will instruct you and teach you in the way you should go; I will counsel you with my eye upon you (Psalm 32:8 ESV).
Listen – Then you will call upon me and come and pray to me, and I will hear you (Jeremiah 29:12 ESV).
Correct Those Whom I Love – I reprove and discipline, so be zealous and repent (Revelation 3:19 ESV).
To become a better parent, I need to be an obedient child. Only then can I train, listen, correct, and be less likely to provoke my own children.
If you are a Christian, you are a child of God and have been called to parent. You may or may not have biological children, but God has given His followers the task to train spiritual children in their faith.
Who has God given you to parent? Are you providing them with His form of TLC?
(Photo courtesy of morguefile and Sgarton.)
(For more devotions, visit us at www.christiandevotions.us.)
---
---