And He said to them, ?Come aside by yourselves to a deserted place and rest a while." Mark 6:31 NKJV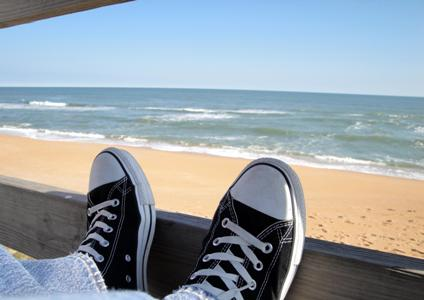 The smell of applewood bacon met me at the door.
The automatic glass doors of the beach hideaway slid open, and I inhaled deeply. The aroma of that morning's buffet breakfast still permeated the air. My stomach growled even though I had just eaten. Between the comforting smell, the relaxed atmosphere, and the memories of past stays, it felt like home.
I checked into my room and collapsed on the bed. The sound of waves crashing ashore slowly faded as sleep wrapped me in her warm embrace.
Early the following morning, I hurried downstairs for breakfast. The dining area faced the ocean through wall-to-floor windows. I started the day watching God raise the sun from its nightly slumber while I feasted on scrambled eggs, bacon, and southern fried potatoes.
My solo vacation getaway was long overdue. The frustrations of life and weariness of daily struggles had caught up with me. I was exhausted and needed time away to rest, regroup, and renew my focus.
Jesus knew the demands of a busy schedule. As He and His disciples mingled with people in that hot, dry Middle Eastern climate, it took its toll on them spiritually, intellectually, emotionally, and physically. That's why He called them aside to a quiet place for a much-needed rest. Away from the clamoring crowds seeking loaves and fishes. Away from the sick needing healing. Away from the hurting who longed for His compassion. Away from the important to focus on the critical.
It is tempting to view ourselves as hardened soldiers in the fight. After all, we are told to "endure hardship as a good soldier of Jesus Christ." So we plod wearily on, not realizing we're losing our competitive advantage. Spiritual battles cannot be fought well with wearied minds, souls, and bodies. In his book, Seven Habits of Highly Effective People, Stephen Covey reminds us to "sharpen the saw." Meaning, we must take time to regain our edge to be effective in our work.
So, take some time for you—away from the important demands of your life. Schedule time away where you can be alone with God to watch His wonder and hear His whispers. It will be time well spent.
For now, pass the bacon and scoot over—you're blocking my view of the sunrise.
(Photo courtesy of morguefile and Jamierodriguez37.)
(For more devotions, visit us at www.christiandevotions.us.)
---
---