Your eyes saw my unformed body; all the days ordained for me were written in your book before one of them came to be. Psalms 139:16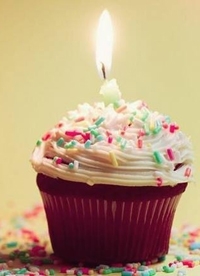 Today is my birthday. It didn't start out like I had hoped. Between the Internet, the U. S. Passport Agency, and just plain old bad luck, all I wanted to do was sit on the couch, huddle in a blanket, and eat a Dove Ice Cream Bar.
The chaos began last week and it rolled over me like a growing wave in the ocean. Happy birthday to me . . . sniff.
There's one thing age does for a person. It drags old birthday presents like wisdom and hindsight along with it. So when I started to tell myself lies like "I'm not good at this," or "I'm such a loser," those sweet little birthday presents from the past reappear . . . repackaged and repurposed.
I end up with a passel of gifts to open all over again. When the paper comes off, I'm gently reminded I have worth and value. I have talents and treasures. In fact, I have a Father who not only knew me, but saw me, long before I was formed.
That's the wonderful thing about God. He does know us. When He was deciding my "beautiful" red hair color, He was working on a plan for my life. He knew then -- always has known -- how many birthdays I'd have and just what each of the days in between would entail. As my Abba Father, He understood His daughter would fall for the little lies the worlds tells and that I'd, at some time or the other, be curled up in a fetal position feeling sorry for myself.
It's nice to open a package filled with wisdom and know that all things work for the good for those who love God. Or to pull back the tape on a box filled with hindsight to reap the rewards of seeing an unsuccessful path just in time to make a hard left onto the right path.
Birthday or no, the hard thing about bad weeks is remembering God does know me and, regardless of my whining, He loves me without fail. It doesn't mean He'll skip discipline if I need it or that He'll give me my every desire, but He will never stop loving me.
I'm allowed a little whine time. Just not much before my Father steps in to remind me of my worth.
If you feel a bit overwhelmed with the mishaps of life, remember these things shall pass. Bask in the love of a heavenly Father who knew you long before.
---
---